Post by Fletch on Jan 20, 2016 6:49:04 GMT
Name:
Citrine
Appeared Gender:
Female
Appeared Age:
late teens-early 20's ish (At least if you get over the fact that she's about 4 feet tall)
Gemstone:
Citrine
Gemstone Location:
Solar plexus ish.
Corrupted:
nope
(If Corrupted)Monster Form:
N/A
Appearance:
Image is kinda big so check her out under the spoiler.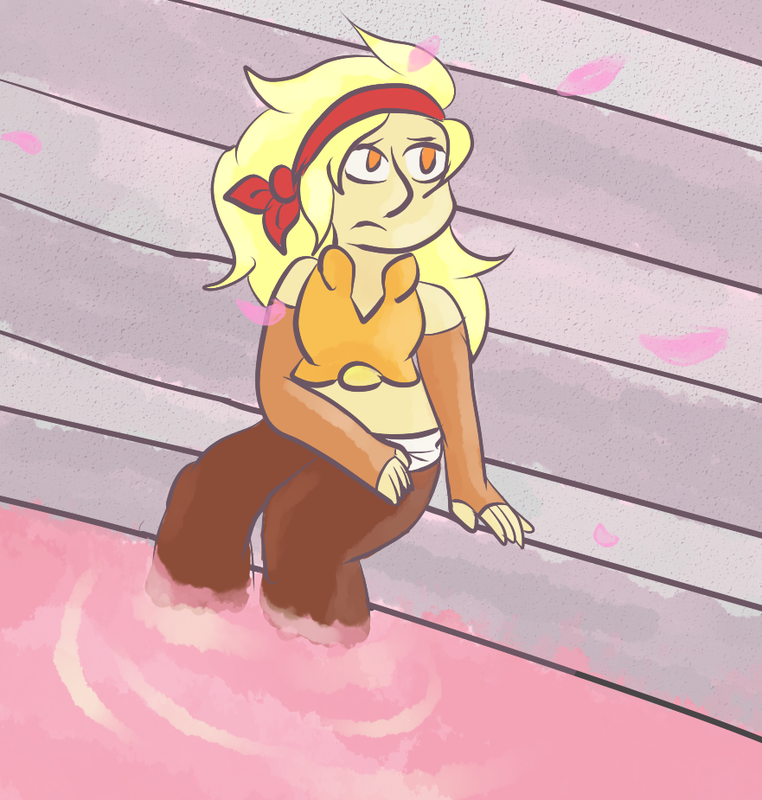 Personality:
Citrine's got a pretty big chip on her shoulder. She puts up a front, trying to make herself every bit the intimidating soldier she was supposed to be. She's quick to anger and gets incredibly defensive at the slightest provocation. She is slow to trust others and is wary of any kindness shown towards her, knowing that nobody could possibly like a defective gem like her. Not that she shows it of course. Desperate to prove that she's useful, Citrine's always eager to volunteer herself for the most dangerous assignments, not giving too much thought to her own safety. Just because she's smaller and weaker doesn't mean she's any less durable than her sisters.
Citrine isn't what anyone would call a master strategist, charging forward, hammer in hand usually works quite well for her. When it doesn't she just tries again and again until either it works or she becomes too exhausted to fight back. She's by on means unintelligent however, being very socially aware of the gems around her. She has a knack for being able to read gems better than most.
She's extremely hard on herself, especially when she fails. Other quartz gems are capable of doing so she should be able to do it too, regardless of whether or not she's actually physically capable of doing it. However, if a gem manages to befriend Citrine, they'll find that she's fiercely loyal to and incredibly protective of her friends. She's always willing to listen to them, and although her advice might not always be the best, she does try her best to cheer them up if they're feeling down.
Likes/Dislikes:
Dislikes:
-being alone
-being thought less of because she's defective
-herself
Likes:
-Sweets (she doesn't particularly enjoy eating, but she has a weakness for anything sweet and sugary. Particularly hard candies and chewing gum and the like because there's very little to digest, if anything at all)
-her friends
-Being up high. (She's got a habit of shapeshifting into a bird of some kind whenever she's feeling particularly stressed and just flying as high and fast as she can, leaving her problems on the ground for a little while.)
Fears
:
- Her friends leaving her because they realize they can do better than some defective citrine.
- Fusing. Or rather, letting other gems in and trusting them enough to do something so incredibly intimate. Aslo she holds to some of Homeworld's prejudice of fusing being a cheap tactic for weak gems, not wanting to be seen as weak herself.
-Becoming corrupted.
Weapon:again big image under the spoiler tag. It's a one-handed warhammer.
A specialised ability that you have, eg. Garnet's lightning manipulation and Lava Immunity or amethyst's cloud creation or Lapis's control over water. You get two of these put there names here but put the details in the below section
Ability 1:
Electricity manipulation. While she does have the ability to zap things at will, she rarely uses it because it takes a long time to charge more than a tiny spark.


Ability 2:
She can heal other gems by touching them. She can't really do anything if they're cracked or broken, but if they're close to poofing, she can restore them just enough to get to safety. This however takes a massive amount of energy on her part and leaves her tired for several hours afterward. She outright refuses to use this ability most of the time because Quartzes aren't supposed to be able to do things like that. They're soldiers, not medics. And she doesn't want her peers thinking less of her than they already do.


Fusions:
None as of yet.




History:
Citrine was one of the first gems to emerge from the Beta Kindergarten, with a lust for life and a desire to explore every inch of the barren, rocky canyon she found herself in. She was even more surprised to find other gems, just as much as the other gems were surprised to find her.
Not long after Citrine learned she was wrong. She was too weak, too small to be of any use to anyone. They were going to break her. She did the only thing she could think of and begged for mercy. She'd do anything so long as they'd just let her live. Figuring that she'd probably end up getting shattered sooner or later, they assigned her to a battalion of Quartz soldiers under Yellow Diamond's command. She was sent on missions seen as too dangerous to waste more important gems on. Whether it was luck or her own determination to stay alive, she managed to get through nearly every mission unscathed. That isn't to say she'd never been poofed.
However, she hardly got any recognition for her rather impressive achievements, she was, after all, defective.
The word followed her wherever she went, even pearls seemed to view her with some disdain. It wasn't long before she began to believe those things herself. If gems kept saying them, they must be true, right?
Fast forward to a few thousand years later, Citrine begins to hear rumors of a rebellion. At first they're just that, rumors.
Then her unit gets word of the galaxy warps being destroyed, not long after, they receive a broadcast from a mysterious pink gem Citrine had never seen before, but the gem's words stuck with her.
'It doesn't matter what Homeworld defined as your role, because if you protect Earth like us you can be free.'
Amid the chaos that followed, Citrine shifted into a bird and left her battalion.
Maybe she could be free too.


Character Arcs:
-It's hard out there for a gem on her own, going back to any of the homeworld gem outposts is probably a bad idea, but does Citrine really have what it takes to be a Crystal Gem?
-Citrine slowly begins to learn to love herself, and unlearn some of the toxic messages instilled into her by homeworld.
-Fusion 101 - Shut up and dance with me: Citrine begins to open up to any of the gems she befriends and whether it be boredom, curiosity or necessity, and fuses for the first time.