Post by Clinohumite on Mar 28, 2016 6:56:58 GMT
Name:
Clino
Appeared Gender:
Female
Appeared Age:
19
Gemstone:
Clinohumite
Gemstone Location:
Over her left eye
Corrupted:
No
Appearance:
She's just a bit taller than Amethyst.
Pre-earth form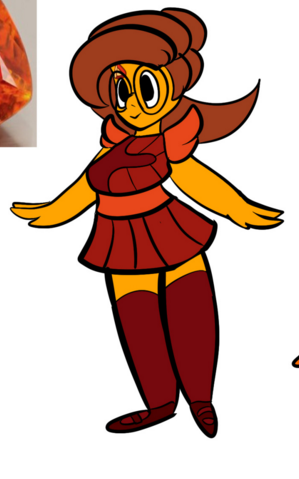 Post Reformed
Personality:
Clino is a very gentle gem. Many things scare her, but she's trying her best to overcome her anxiety to function well and help those around her. She has a bad habit of apologizing for things that she doesn't need to apologize for at all, which she's sure can be annoying to most people and she ends up apologizing for apologizing. She also has a very bad habit of taking blame for anything that goes wrong, thinking she could of somehow stopped it from happening. When she isn't doing something she loves to do, she also tends to be pretty lazy, wanting to nap a lot or just be curled up in blankets relaxing. When she starts to warm up to people and consider them friends, her anxiety dulls down quite a bit, and she'll be more open to acting silly. Her being silly mostly consists of bad jokes, friendly teasing, and funny voices.
Likes/Dislikes:
Food (especially cheese and candy. not together though), Reading, listening to earth music from around the world (she likes latin music best), watching earth films, her absolute favorite thing to do is what she was made for, making lists. She can sit and organize a group of things into lists for hours, then remake it at a later date when she gets new information on things on said list.
Fears
:
Sudden loud noises, people yelling at her, being left alone because she did something wrong, making someone feel bad (which causes her to apologize), her gem corrupting, putting blame onto others (even if they may deserve it)
Weapon:
(shown in her picture) Her weapon is a "Magic Wand" that can blast energy like pearls spear.


Ability 1:
Charging Electronics: Can create very low doses of static, amplifies with high emotions. Highest level is an electrical blast, though she's only ever been scared enough once to create this, and that was when she fled homeworld.


Ability 2:
Photographic Memory: Anything she wants to remember, she remembers with great clarity. This helped very much with her old archiving job.

Fusions:
None so far
History:
Clinohumite was a homeworld archivist who learned of rose's rebellion after reading some illegal documents she mistook for public records. She was enraptured with the story of rose's love of humanity and found and read whatever she could on the topic of the rebellion. When she was found out by her manager gem, she was threatened to keep her nose out of things she starts to realize how controlled everything was, how filtered the information she shelves is.
She takes a week to secretly try to compare the public records to the information she had found out and is shocked at just how much is omitted from new gems to learn. After finding an absolutely ancient star map, she makes up her mind. She wanted to go to this planet. It took a lot of work around with the laws, following them too a tee while also perhaps going through some loopholes, anything to get her request for a ship approved. She got the approval to head to a close planet to archive the species there for the datalogs. When she heads out in the scout ship they allowed her, she did the bravest thing she'd ever done and broke the inner computer tracker out of it, throwing it away on the planet she was supposed to be on before heading to earth using the map. When she finally made it, as she entered atmosphere the realization finally hit her about what she had done. She had run away from her entire life for what could be a myth. That terrifying revelation caused her static powers to amplify to levels she's never felt before or since, blasting the ships controls and causing her to crash to earth. Her injuries caused her to retreat into her gem, where she reformed into her current form. She then sought out what the records called the "Crystal Gems"


Character Arcs:
Meet other gems to become friends with to help her get over leaving homeworld for good
Learning to control her static powers
Archiving everything she can get her hands on, learning about earth and it's inhabitants
Coming to terms with the fact that the person she idolized, Rose Quarts, isn't alive for her to learn from.