Post by BSDiopside on Sept 11, 2016 22:32:45 GMT
Name:
Black Star Diopside, Black Star, Star, or Diopside
Appeared Gender:
Tilts more to a female appearance, although it may be hard to tell at times
Appeared Age:
~27 in human years, again, it's kind of hard to tell
Gemstone:
Black Star Diopside
Gemstone Location:
Upper Face, replaces her eyes and nose
Corrupted:
No, not yet...
(If Corrupted)Monster Form: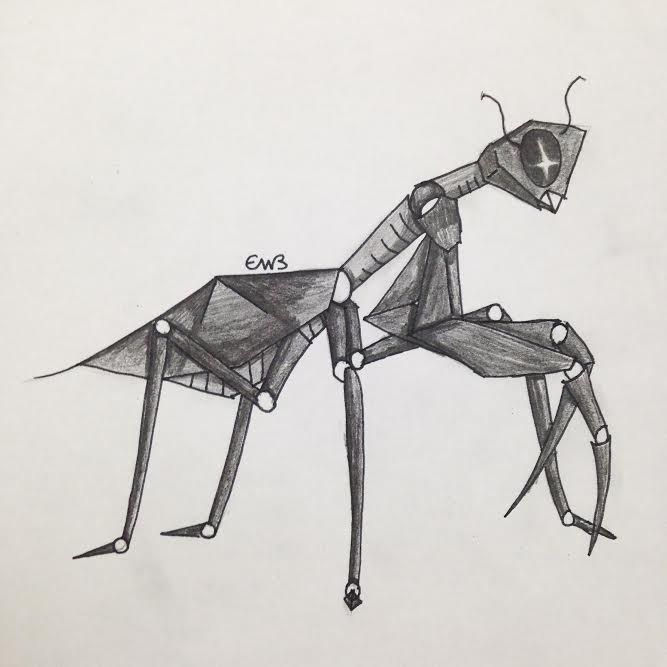 Appearance:
*Note: She stands at about 7'5"
Both images were made by me and are not free for your use.
Personality:
Diopside is a character with a wide range of personality traits. She can go from being a pleasant individual to a foul mouthed monster within seconds. Her mood swings are rather random, so there is no predicting a switch in attitude. Most of the time, Diopside is obsessive, eccentric, and obnoxious. She is a loud mouthed individual that takes no nonsense from her inferiors. It brings her joy to annoy others, more so allies. Some of her obsessions include people of power, power itself, fusing, and her crew mates.
The above statements are the more positive aspects of her personality. Diopside believes that she is allowed to act like a monster since she looks like one. For enemies, she loves to torment them and scare them. When she is on the hunt, it is best to watch yourself around her, or you may become her target. Diopside would be chaotic neutral on the alignment spectrum.
Likes
Loud foods
Hunting
Causing grief/ fear
White Diamond
Having control
Fusing (It's sort of an addiction for her as she loves power)
Flying her ship
Her ship
Dislikes:
Being ignored
Being belittled
Failure
Being Bored
Being told no
Being useless
Fears
:
Losing power
Losing her crew
Being alone
Failing her Diamond
Weapon:
A halberd, her weapon can be seen on her ref sheet.
A specialized ability that you have, eg. Garnet's lightning manipulation and Lava Immunity or amethyst's cloud creation or Lapis' control over water. You get two of these put there names here but put the details in the below section
Ability 1:
Cloaking- Diopside can become almost completely invisible. This ability works best in dark environments. If she were to be in a light environment while cloaked, her figure can be seen in a very translucent state- almost like a ghost.
Ability 2:
Entrapment- Diopside is a walking prison. If she were to fuse with someone, she could keep them trapped in the fusion until it is no longer required. (Similar to Lapis and Jasper as Malachite) This ability could be responsible for her erratic behavior.
Fusions:
None yet, hoping to have a few though.
History:
Diopside was originally created to serve under Yellow Diamond, as a sort of bounty hunter. Due to her 'difficult' personality, she was sent on solo, off planet expeditions to either retrieved stranded gems or to capture wayward ones. It was because of this that she was either seen as a savior or a monster. Depending on the task, Diopside may be away for long periods of time on very diverse planets which require survival skills.
It is because of her skills and efficiency that she was transferred to White Diamonds court. Diopside was given a new ship to help with her missions, a ship which she lovingly refers to as The White Star (can be seen in her reference). Black Star was permitted to pick out a crew of her own, as well as a pearl for herself. The crew of the White Star had many successful missions, until they were ordered to investigate missing gems from WD's court. Accepting this mission was the first breaking point of Diopside.
The White Star's crew had landed on Earth to investigate the reports, unknowing of the odd sickness that had developed on the planet. The Corruption. For the crew, it was the stress that weakened them. Earth was a very different planet then what they were used to. Slowly their persona's changed and they eventually became monsters. If it weren't for Diopside's distorted persona, she may not have survived.
Unable to call back to Home world for assistance, Diopside was left on her own to deal with her corrupted crew mates. Being the huntress she was, Black Star tracked down each member of her crew and shattered them, believing they were far from help. Before she could finish her task, the corruptions destroyed the hyper-drive on her ship, leaving her on Earth. Had it not been for the disappearances and corruptions, Diopside would have continued on with her career.
Character Arcs:
Some of my plans for Diopside include her rebuilding a crew of loyal gems to help her battle the Crystal Gems and corruptions.
I eventually want to develop her into a power-crazed tyrant which will cause her to become corrupt. ('Cause who doesn't love a good villain?)