Post by ♦ Peridot on Apr 15, 2017 10:17:58 GMT
Name:
Peridot, Facet-5 Cut-9XN
33155441010
Appeared Gender:
Female
font color="569056"
Appeared Age:
Young adult
Gemstone:
Peridot
Gemstone Location:
Naval
Faction:
Homeworld Gems
Corrupted:
No
Appearance:
Green skin and yellow-tinted hair, Peridot is visually similar to others of her kind by color alone. Desiring to stand out amidst the crowd, she keeps her hair straight and out of the way. Skinny, tiny and otherwise weak she is rarely seen without modern limb enhancers to keep her on par with her counterparts. Trimmed with pink and marked with pink diamonds on her shoulders and knees, she makes it known which of the Diamonds she belongs to. With
enhanced
height she stands at seventy inches tall.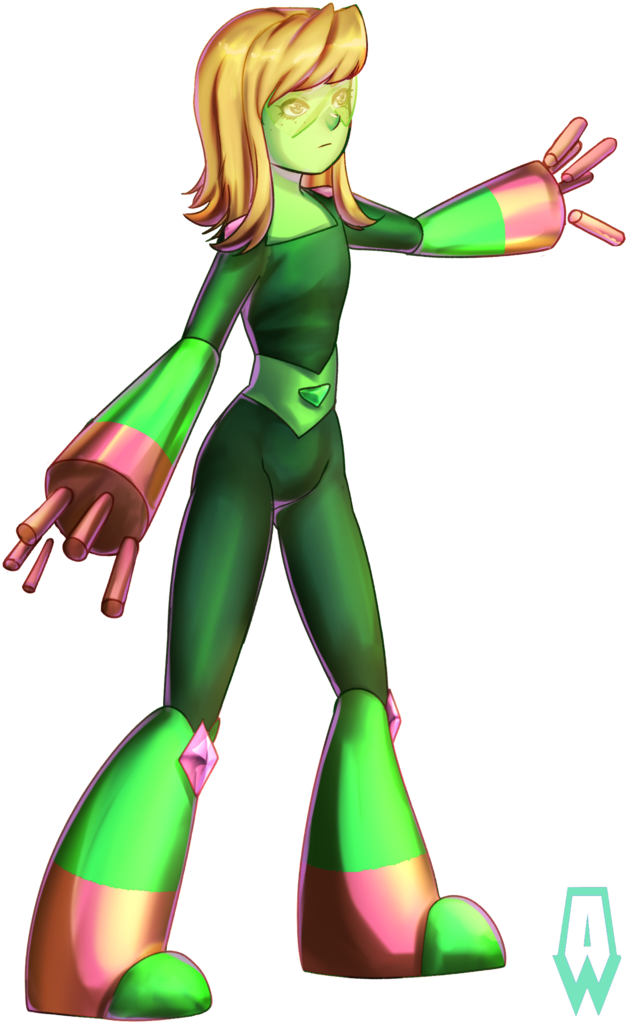 Personality:
Callous yet soft-spoken, Peridot seeks to achieve her goals using whatever she has at her disposal. Friends are a means to an end for her and she is determined to prove herself as the best technician the Diamonds have ever seen. A newer gem, she lacks general wisdom or caution but compensates with being quick to learn concepts. She can be easily distracted, almost constantly listening to music or becoming too engrossed in her work to pay attention to her surroundings. She feels insecure without a soldier gem to watch her back, even more so if she lacks limb enhancers. Sometimes arrogant, Peridot holds great pride in being one of the few Peridots within Pink Diamond's court and fiercely defends the aspects that make her unique from the others of her kind.
Likes/Dislikes:
+Having others fight her battles
+Fixing machines
+Pink Bubblegum
+Limb enhancers
+Human music
+Bismuths
-Combat
-Lightning
-Large crowds
-Being doubted
-When her machines break
-Working with other technicians
Fears:
Priding her belief of having value as a technician, Peridot's greatest fear is being captured and forced to assist the rebels. She fears combat in general, even against an adversary of equal strength.
Weapon:
Unable to summon anything truly worthy of melee comabat, Peridot can summon a small knife which can reform to any handheld tool for mechanical uses. From a screwdriver to a soldering iron to a wrench, this tool can be used for odd-jobs on machines, but not necessarily combatants. This device is capable of making minor repairs to gem-tech, but not gems themselves.
Ability 1:
Flight, granted by her limb enhancer boots. Capable of lifting the weight of Peridot a few times over, she is capable of quickly scouting an area or maneuvering around while working. The boosters emit a green light and a small flame, which works to heat up objects in a pinch. This ability works while underwater or in space, but is impractical in combat due to the power draw on her system. The high-pitched hum noise is considered annoying by Peridot and she'll walk if possible, or listen to music.
Ability 2:
Energy projection, granted by her limb enhancer gauntlets. Peridot's gauntlets can fire blasts of explosive plasma that takes a post to charge and another to fire. The damage of this bolt of energy is effected by how close the target is; anything past ten meters and the damage is almost is more of a sting than a burn. More refined use of this ability allows her to charge devices to temporarily act as a power source, shocking objects or welding metals. This ability also allows for a limited tractor beam, allowing her to lift and move heavy objects within a few meters of herself. (Gems caught in this field can escape by reaching outside the field.)
Fusions:
None
History:
One of the few Peridots grown on Earth for Pink Diamond's court within the last century, Peridot Facet-5, Cut-9XN was quickly put to work overseeing projects and improving Earth's gem infrastructure. Limited only by the resources available on Earth, she eagerly sought out new projects to complete for the Earth colony. Much of her work was completed without the assistance of other Peridots, claiming that she was more than capable of any technical work she could be assigned. After a few decades of completing most of her projects ahead of schedule she was assigned a small transport ship to house her and any escorting soldiers while she moved between sites. Using this ship on countless missions (chances are she has a log somewhere with the exact number) she would allegedly use the ship to visit various human cities to study the local fauna of her assigned colony.
She found their advancements within the last decades to be remarkable, if not futile. Humans, to her, had shown a great deal of adaptation that she admired but more so than anything she loved their music. Going so far as to recently acquire (steal) a smart phone and use it to interface with the global human data network, she almost constantly streams music of human origin. Recently she has been seen to sing or hum quietly while working with music playing from tiny ear buds. Just when she felt that there was a lull in her work with Earth, Rose's message came and the Galaxy Warp was broken. Receiving direction to leave the warps broken and to regroup with other Homeworld-aligned gems, Peridot now has a mission unlike any of the projects before.
Character Arcs:
►
Another Day on The Town
[In progress with Doofy and Moonstone]
With directives to regroup with other loyalists, Peridot searches the human settlement of Beach City due to its proximity to a gem site. Meeting with a Lapis Lazuli, she hopes to get assistance with investigating the Communications Hub.
►
Alien Societies
[In progress with Doofy and Ruby]
Curious of what Lapis Lazuli does with her time unassigned, Peridot meets with her and a Ruby who lives with her to learn more about human culture.
►
New encounters, New Allies?
[In progress with Octavian]
Seeking a strong escort, Peridot seeks to gain the protection of a true soldier gem, Bloodstone.
►
Out of Stock
[In progress with Forge Master Para]
With modern parts on Earth and communications down, Peridot visits an ancient forge to place a request in person.
►
No Good Deed Goes Unpunished
[In progress with Sir Howlite]
Being directed towards Empire City to regroup with fellow loyalists, Peridot encounters Howlite. Requesting an escort to the loyalists, Howlite obliges but only after taking Peridot for a night on the town before finally leading her to the loyalist ship, Derelict.
Art by Aydub, check out her work!