Post by Grey Sapphire on Nov 10, 2017 20:57:27 GMT
Name:
Grey Sapphire
Appeared Gender:
Female
Appeared Age:
--- [Not recognizable - Sounds like the Sapphire from the show]
Gemstone:
Grey Sapphire
Gemstone Location:
Eyesocket
Faction:
Homeworld
Corrupted:
Not yet..
(If Corrupted)Monster Form:
---
Appearance: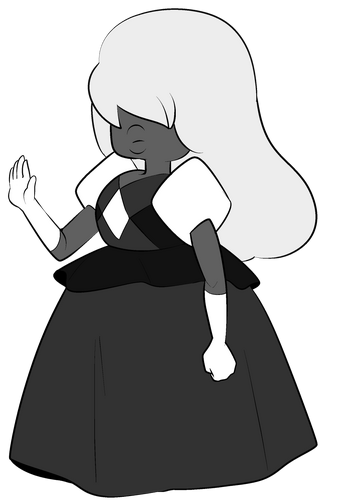 Personality:
Grey Sapphire is Loyal to homeworld, aswell as Arrogant and Egotistical,
Her Short-tempered behaviour towards the Crystal gems of course came from her life on Homeworld
She is hot-headed and also angry in general, and is strict with everybody.
But of course, she is also elegant and can be friendly to some gems.
Likes/Dislikes:


+ Gem culture
+ Her Ranking
+ Herself of course~
+ Homeworld
- Crystal gems
- The Earth
- Rose Quartz's actions towards Homeworld
- Shattering


Fears
:
- Of being shattered by the Crystal gems
- Of loosing her ranking on Homeworld
- Of being infected by Corruption
Weapon:
Since she is a Sapphire, she does NOT have a weapon.
Ability 1:
Geographical
Future Vision: Like others of her caste, Grey is able to see the future within a certain degree, unlike most though her future vision is focused into to seeing environmental shifts and changes, a form of security and protection that allows her to foresee more obtuse and environmental based attacks in comparison to normal Sapphires. Although this does come with the downside of not being able to forsee general or normal attacks. In combat this Vision is only limited to a few seconds in the future, due to the stress of combat.
Ability 2:
Typhokinesis | Smoke manipulation: As normal Sapphires have the abbility to create and manipulate Ice, Grey can do the same with smoke, tho as her Smoke manipulation is focused on the abillity to control it, not create it.


Fusions:
None.
History:
Grey Sapphire originally served White diamond's court on Homeworld, as she was sent to Pink diamond to go on a mission on Earth. It seemed like an Asteroid hit the ship as it crushed at the Kindergarten, at the time as the Crystal gems were there to check on it.
The Crystal gems attacked and so, Grey Sapphire was seperated from the rest of her group, as they were shattered.
She barely escaped and hid from every other gem, as she stayed at the Kindergarten for a few years now.
Now that the Kindergarten is shut down and her communication to Homeworld got eradicated, she is stranted on Earth, and so will look for possibillities to escape that 'useless piece of rock'.
Character Arcs:
[Fully on my own..]: Grey Sapphire is now stranted on the Earth and stays at the Kindergarten until somebody rescues her.
[There is no coming back]: Grey Sapphire realises that maybe some Crystal gems will find and shatter her, so she decides to look around on the world that she is stranted on.
[It isn't that bad.]: Grey Sapphire develops some kind of liking to Humans and the Creatures living on the Earth.
[Encounter]: Grey Sapphire will encounter some Crystal gems and join them.