Post by Bixbite on May 11, 2018 9:34:05 GMT
Name: Bixbite
Appeared Gender: Female
Appeared age: 18
Real age: 400
Gemstone: Bixbite 8XB
Height: 5'3 (little shorter than pearl)
Gemstone Location: Right shoulder
Faction: Rebel
Corrupted: No
Appearance: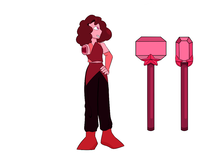 Personality: She is outgoing and friendly but likes her alone time so she could be classed as an ambivert, she likes to make people laugh because she wants to feel accepted. She has little self-confidence and low self-esteem, since having that problem isn't really healthy she unknowingly tries to make up for it by trying to make others happy. She is also loving, caring and compassionate but has never really experienced love.
Likes: She likes her space but she loves to feel liked so she often wants to hang out with her friends in the rebellion. She likes how welcome she is in the rebellion because it makes her feel accepted in a way and it let's her slightly forget about her defect.
Dislikes: She dislikes homeworld for all the damage it made her feel. She absolutely hates feeling alone. In a way she doesn't like herself.
Fears: She fears homeworld because she might get shattered for being a defect. She also fears being alone because she would hate to be away from the rebellion (aka the only place where she feels accepted and liked, the only place that showed her kindness and emotions).
Weapon: Hammer, since it's so big it is usually needed to be handled with two hands but she manages
Ability: She can conjure a thick fog but only when she is extremely distressed. The more distressed she gets, the heavier the fog. It dissipates after 4 posts. If she is distressed she can choose whether or not to summon it.
Fusions: Never fused
History: She was made in the Beta kindergarten 400 years ago and 2,105.7 miles away from beach city. She was meant to serve pink diamond and acted accordingly while also migrating over to beach city due to warps being down as instructed though it took her some time because of distractions and constantly being left behind from the other bixbites along with the the great distance .She had heard of the rebellion but never got the chance to escape and join it. Until when she finally arrived in beach city, a fleet of rebels attacked her area. She saw her chance and took it, she managed to not get shattered or poofed by the rebels and followed the them to their base. After a bit of conflict she managed to join.
Character arcs:
She learns how to accept herself and her defect
She learns how to control her emotions
She gets to abandon home worlds rules
She fuses for the first time
She gets over the fact other bixbites and basically homeworld abandoned her.