Post by Hesson on Feb 26, 2019 1:16:26 GMT
Name:
Hessonite
Appeared Gender:
Female
Appeared Age:
25 – Hessonite's actual age is around 6000 years of history.
Gemstone:
Hessonite – The gem in question is a paler version of a traditional Hessonite, with a hardness of 7 and a gravity (Density) of 3.65. It's fracture meanwhile is conchoidal, meaning that the gem breakage resembles the concentric ripples of a mussel shell. This type of fracture is not to be confused with Sub-conchoidal fracture which is similar. The gem's shape is a rectangular design.
Gemstone Location:
Upper back, located near the shoulder blades and beneath the neck - This location in question represents her strict personality, disciplining herself specifically to the be the perfect Hessonite she believes she is, due to her pastel hues compared to other hessonites dull and not as vibrant.
Faction:
Homeworld – Hessonite's loyalty to the empire has become weaker in recent years due to her relation to other misfit gems, and thus may have an impact in later days that could potentially have her joining the crystal gems. However, a gem would have to make a strong case to have her switch loyalties, or possibly a human.
Corrupted:
False
Appearance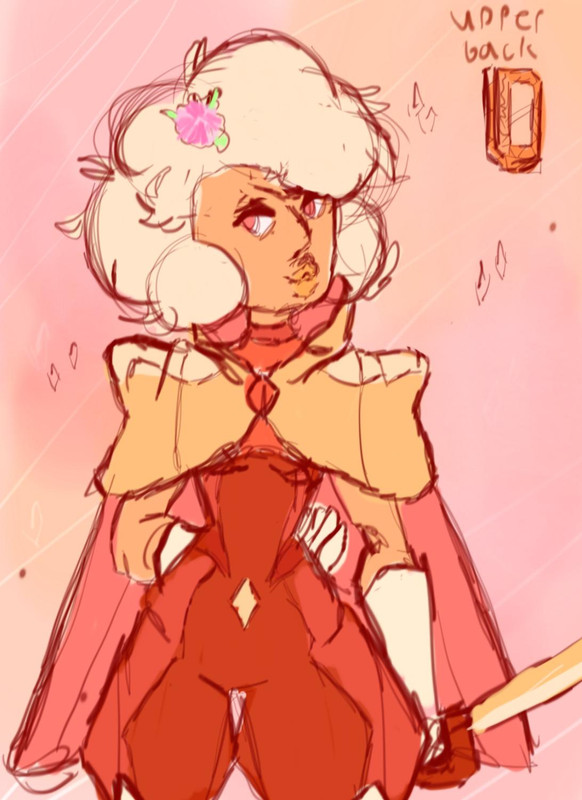 Hessonite is a gem of unique strength and power behind her every swing, with that bringing a strong physical appearance, and a coloration of the powerful colors known as Red and Yellow. Though while lighter peach curls fill her hair to the brim, creating a puffy appearance, her colored hair contrasts to that of her pastel orange skin, being somewhat off-colored, but not enough to be deemed a disgrace to Homeworld. From there her eyes are narrowed and a reddish-orange in hue, a unibrow occupying her forehead gracefully while her lips are full and nose is arched downward. Now to the contrary, these strong features are not alone, as when you go below her chest, her hips are wide, legs split apart just enough that they can be seen though despite a normal standing position. From there her legs narrow to her feet, while the feet in question are close to pearl-sized. Regarding her gem's position, it's located underneath her orange-tinted cape, between her shoulder blades.
The cape mentioned before does not actually come with her physical form, rather it's an addition for her ranking as an elite gem of the empire, her skills in combat legendary and seen through the many tears in the lower part of the cape itself. From there this is where her true colors set in, the underneath of her cape a pale red, while wearing a serious-red jumpsuit that puffs up at her hips, creating the illusion of puffy shorts. Though despite the somewhat childish choice in apparel, her long gloves and equally long boots make up for it and tighten her physical stature, being quite intimidating to her opponents. Simply put, she can be characterized as a warm, toasty fire that can set aflame anyone who gets too close.
Though with such a characterization, Hessonite's finer details are simply ignored, her cape held together by a yellow diamond, while another diamond insignia sits on her clothed stomach. There is also seams that make there way across her body's uniform, colors on opposite ends different, yet similar enough to not be noticeable at first. From there she wears a red choker, and the bottom of her boots sport a similar red that makes up the entirety of her bottom feet. There isn't much else then that which makes up her appearance, and rightfully so, as she believes she's perfectly fine the way she is.

Personality

Hessonite's gem placement isn't the only part of her personality she has, as while she's strict, she also has a high-sense of self, often looking down on others as just pawns beneath her. That isn't to say though that she doesn't have respect for the occasional gem, like especially for those who have similar flaws to her yet still made their place on Homeworld. Simply put, you have to be someone who has proven they can survive without being perfectly made, otherwise you'll be dismissed as just another common gem. However, gems like sapphires, garnet-class gems, and the diamonds have earned her respect automatically, due to either their rarity, or their status as high-ranking gems. But there are gems such as pearls that will probably never earn her respect, which also explains why she hasn't bothered with getting a pearl yet due to her view on them as being more-so pets then respectable servants.
Alas, although she maintains a disciplined nature, she is extremely hot-headed, reactive to anything that beats her. Further on the subject, she can become frustrated when a battle or conversation doesn't go her way, or in worse cases, extremely angry in the face of disrespect and no acknowledgement of her accomplishments over the thousands of years she's existed. However, this is where they may earn her respect, as she'd become interested in why and how someone could see something so major as something so little in their perspective. They might even find her friendship there after a good amount of time. Regardless, it's best to remain on hessonite's good side, as her fury is admittedly frightening, so far that a gem could crack under the pressure she threatens.
She also in addition to being hot-headed, has extremely fierce, competitive spirit, best seen when in social gatherings among other hessonites, to arcade games on earth. It's best not to get into a competition with her as she will simply try to destroy you in any way possible. And in her worst cases she can be seen arguing her case with other gems regarding how many colonies they've helped colonize, or how many monsters they've slayed. This also brings up her ego which is similar to her high-sense of self, but only in the case where her history of helping colonize organic planets fuels it.
However, with all this hotheadedness and high sense of self, deep down Hessonite is quite insecure about her off-color, being the type of gem to let her emotions boil within and never allowing her emotions to escape, except in times of stress and failure. More specifically, deep down she knows she's not perfect, but she also knows that if she convinces herself she's perfect, she can convince others, too. To her there's always a lie that can cover up a flaw, but if someone where to break these flimsy lies, that she's created, Hessonite would drop to one knee in defeat, forced to reconsider what she really was and where her loyalties lay.
Likes
Flowers – Regardless of the worlds she's help conquer, Hessonite has always been a fan of the many organic plants that inhabit a world, and with the recent arrival to earth, Hessonite has nearly fallen in love with the planet's resources, yet not enough to turn traitor and fight for the planet's independence.
Food – Despite the process involved with digesting food, Hessonite seems to like the sensation of "eating" and honestly doesn't mind "dining out" when she can. Though, she prefers hot food and crunchy ones too rather then things like spaghetti and whatever else that's partially liquid. God forbid she ever eat something slimy like ice cream or something similar.
Swords – Hessonite's always had a thing for swords, specifically that of the long narrow blades rather than the great-swords she's seen used. She honestly isn't a big fan of larger swords, they're simply too bulky for her taste and extremely heavy depending on the design and just, ugh, it's just too much if they're not long and narrow, with a guard.
Dislikes
Pearls – Hessonite hates most if not all pearls, due to their nature, in her opinion, of being more so pets then respectable servants, as she believes a servant should earn their way into servicing a higher-ranked gem, rather then being given the job. This is why she herself, despite being an elite gem, hasn't asked for a pearl.
Pineapples – She hates the resemblance between her and pineapples, and plans to kill every pineapple she sees for the misrepresentation.
Fears
None – There's not much to fear nowadays, and Hessonite is a prime example of that mentally. She's simply not afraid to be shattered, not afraid of organics, or anything that might make a gem squeal in terror or surprise. The only thing she might be remotely afraid of is failure, but that comes and goes.
Weaponry
Sword – Hessonite's sword is steel-based alloy with the strength to slice through a gem's form in an instant, a red guard with an orange ribbon handle and a yellow diamond shaped gem at the pummel. The blade itself is long and narrow, while the base is decorated with gold gems and swirls of metal from the guard.
Abilities
Immense Speed - Hessonite's ability is simple, but extremely useful in battle when used correctly, as when she strikes forward, her speed is increased tremendously, giving off the appearance of a streak of light as she flies forward through the battlefield. However, this attack cannot curve in any direction, and only has a distance of 50 feet. Hessonite does have the ability to launch vertically into the air, or at any angle as long as the angle doesn't curve. This attack can cause massive damage if the victim does not move to the left or right simply. This can only be used every other thread to allow the user to recover from the amount of speed used.
None – This ability hasn't been thought of yet, and is more of a 'slot to be used later, if at all.'

History
With few cosmetic flaws, Hessonite was one of many on her first world, a hessonite colony under the rule of the magnificent Yellow Diamond. This colony was one of the first of its kind, a balance between organics and gems maintained by the hessonites of the colony, which allowed them to practice their combat skills on the local population. In truth, the dynamic was one of farmers and their cattle, the hessonites of that colony farmers of the organic, monstrous creatures that were primitive, but highly aggressive. They would regularly allow the population to grow, before having raids on their cities and hunting down the major population of creatures. This was how it was for Hessonite as well, and as a commanding gem, she found herself alone on the battlefield.
On one of Hessonite's first raids, she found herself surprised to hear from others more experienced that failed hessonites had fallen to the organic species of that world, and that only made her strive to be the best out of all of her gemstone, accomplishing her goal with great dedication, and mass murder. She would constantly change up her strategy to be unpredictable, using her speed to cut through the enemy forces with the simple swing of her sword. She stunned many other hessonites with her experimental tactics, and word of her eventually reached Yellow Diamond as the glorious gem was reviewing the colony. It was one of Hessonite's proudest memories, and she cherished this time in deep respect to her diamond.
Naturally, a gem of her kill ratio and skill earned her the status of an elite hessonite, earning her cape and the right to participate in Yellow Diamond's glorious conquest of the galaxies. From there she visited many worlds, mostly organic in nature due to her expertise in clearing out organic lifeforms, and eventually earning the respect of many other elites that she crossed paths with. However, it was only until Hessonite participated in a tournament between hessonites that she found she was only a beginner compared to the other elites, absolutely furious when she made all the way to the final round, only to be defeated by a more experienced hessonite that taunted her flaw, and made her out to be weak and as the gem clearly said, helpless against her.
It was after that where Hessonite disciplined herself tremendously, becoming better, stronger, and more in control of her part of the army. She refused to allow humor among her troop, and so they became more serious, deadly, and consequentially, stressed. Eventually Hessonite realized it wasn't the best idea to force her own rules over the other gems, and lightened up her control, but not before one of the most stressful operations Hessonite had ever saw light up her screen; a pirated spaceship full of off-colored gems. This was one of the space battles that Hessonite found herself actually frightened of failure, hits between both of the ships accurate beyond belief as they exchanged bows, circling one another like sharks, but eventually Hessonite came out victorious as she managed to destroy the enemy ship, killing several of her kind in the process.
However, Hessonite was deeply conflicted due to her own flaw, and she felt that it was unjust that those gems were destroyed because of their fatal flaws when a gem such as herself thrived. However, Hessonite realized she was just doing her job for the perfect empire she served, and eventually came to terms to what she did. But sometimes the memory brings her a gem's version of PTSD, making her wonder if she really did the right thing, when she herself was a flawed gem as well. Regardless, she moved on from that point of her life, and served the empire to the fullest she could, but not without some simple pleasures like attending gem recreational activities such as cosmic gatherings, tournaments, and the likes.
Eventually her life led her to the present day, Yellow Diamond assigning her to the colonization of earth, and simply stepping in when ordered to. At first though, she wasn't sure how she felt about serving another diamond rather than her original one, and she found herself once again conflicted as she bowed before her new diamond, sworn to her from the moment she stepped onto the moon base from her ship she gained long ago, a triangular design with a modular component that she could land on any planet she orbited.
Simply, these days were that of new experiences, and Hessonite was going to learn everything she could about Pink Diamond's colony.