Post by Deleted on Jun 10, 2015 2:08:18 GMT
I know, there's gonna be a different template n stuff, but I'm reserving it and making the character already so I won't have to do much work on it once metals are allowed.
Name: Tungsten Carbide
Appeared Gender: Male? (Goes by he due to it's body figure)
Appeared Age: N/A
Metal: Tungsten Carbide
Metal Location: He is made entirely of tungsten, however, he has a bit of excess tungsten on the top of both his wrists.
Corrupted: No. He has no sense of right, however, and will probably side with whoever he "likes" more, or whoever pays more.
Appearance: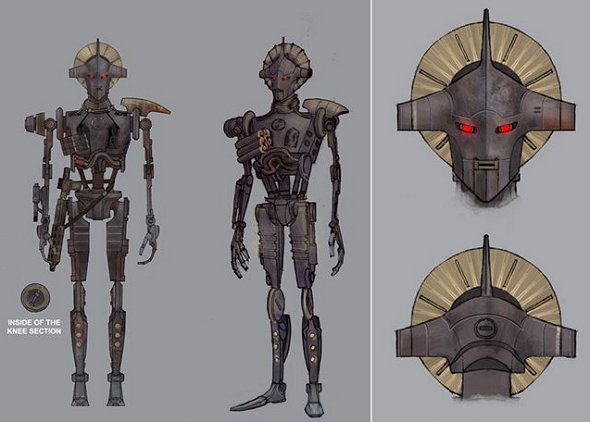 He is a very dark metal, appearing to be almost entirely black. (The fan-like thing on his head is also black.)
Personality: Tungsten has a generally negative personality, as he dislikes pretty much everyone. He does not attack them due to anger or other emotions under that catagory because he has self control, however. Unfortunately for him, others find it hard to notice this, as he cannot express himself due to his lack of a voice. He considers himself a mercenary, and takes his work before anything else.
Likes: Money, combat, destruction, danger.
Dislikes: Interruptions, idiots, weaklings.
Fears: Malfunctioning, rusting, incapability.
Misc.: Tungsten has full mobility, and is not restricted by slowly moving one limb by one. He has the inability to speak, and whenever he tries, it comes out as some kind of garbled language that is indecipherable. (Think night 5 message from FNAF 1, along with light mechanical whirring that sounds like it originates from his upper torso.) He considers himself a mercenary, and will work for any reward as long as he believes it is worth his time and effort.
Weapon: He has rapid-firing wrist guns that appear from a rectangular hole in the excess amount of tungsten on his wrists. He carries a large combat knife with him, as well as an automag pistol, and will collect weapons.
Ability 1:
Ability 2:
Fusions:
History:The back story and past of your gem, try to make this a paragraph or two at least.