Post by cobalt on Jul 6, 2015 0:10:44 GMT
Name:
Cobalt Blue
Appeared Gender:
Male
Appeared Age:
20
Gemstone:
Cobalt
Gemstone Location:
Neck
Corrupted:
No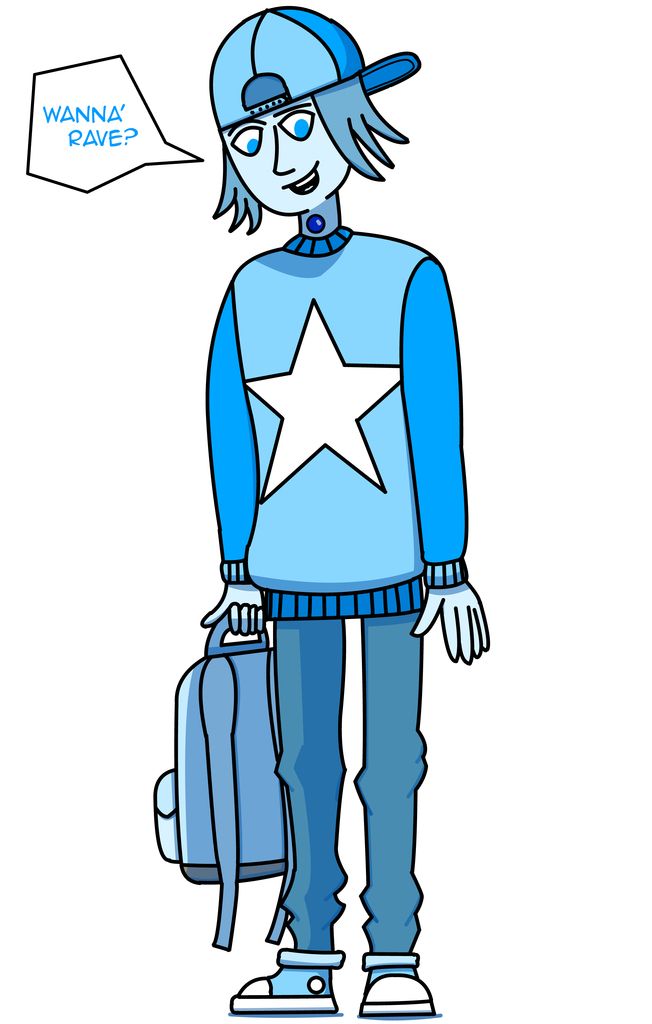 Personality:
Cobalt is quiet by nature but has been transitioning into a more outgoing personality since deciding that he would make earth his home. He is very friendly to humans, not so much for other gems. He's open to interacting with them but not optimistic about relationships with them on a count of his almost 2,000 years of solitude among gem kind. In that way it is harder for gems to win him over.
Cobalt is great at keeping an open mind and loves trying new things, whether its going out with his coworkers for dinner or playing a human game like baseball or soccer.
He has a deep love for nature and when he sees it disrespected he can become much more than annoyed.
Likes/Dislikes:
Likes:
Dancing - Especially Lindy Hop and Disco.
Listening/Playing Music - Specifically from his bass guitar and modded gameboy.
Painting
Nature
Humans
Dislikes:
Other Gems - Corrupted or Not.
Harsh Battles - Cobalt can handle himself in a fight but is naturally a pacifist.
Liter
Rude people
Fears:
Having his gem cracked/cracking the gem of another - A gem is as good as a life and extinguishing life is not something Cobalt ever wants to do as a pacifist. He can tell that the world for Gem kind is changing and he doesn't want it to come to violence because he knows no gem will be safe from fighting.
Weapon:
A shining navy blue ōdachi.
Ability 1:
Songs for Apollo - Cobalt can use his voice and instruments amplified by the power of his gem to affect the feelings of others. He can use it to empower his allies with hard and heavy riffs from his bass, or confuse his opponents with manic 8-bit melodies from his modded gameboy. He can also simply make a sad person happy or a happy person sad.
Ability 2:
Misdirection Inception - Cobalt can extinguish his presence from other people and gems because of all his years in isolation being less than a presence and more at one with his surroundings. Him and his gem work to make his presence no more than the breeze rolling by, the dust flying high or the waves drifting up and down the shore.
Fusions:
None Yet (willing depending on the gem)
History:
Back on the Gem Homeworld Cobalt made a very lonesome life for himself. He wasn't ever quite sure what to do with his life so he did nothing except put one foot in front of another. He kept to his own traveling to and from the most remote reaches of space he could access. He appreciated the landscapes of many different worlds and never became tired learning about his new surroundings and incorporating them into everything he could. He'd pass the time dancing, painting, making music, and imagining what the places he visited would say if they could speak. Because of this. despite his being a social recluse, Cobalt did not feel lonely. Cobalt did feel like he had no place in the world because everywhere he went was just a stop on the road to the next location.
That is why when the warp pads from earth were broken he was grateful. He had been shoved into the next phase of his life which was creating a home. His first step in doing that was getting a job like a human. So he set off to Beach City where he heard Gems were making their homes. While there he opened his mouth and spoke for the first time in a thousand and five hundred years. "Can I have a job, please?" He asked the Blue Gorilla Record Store owner. "Got any experience with music?" The owner replied. "Yeah. About 2,000 years." He said confidently as the owner began to laugh. "The job is yours." The owner said.
In his time since Cobalt has made a great amount of human friends in Beach City. He wasn't just imagining interaction with his surroundings anymore he was actively partaking in it and it felt good.
"Please, Zelda. Will you push me off this cliff?" Cobalt asked his coworker at the record store. "Ummm… Why?" She replied. "I want to reform myself to match you humans. I really like this planet and I like the way you all get to dress. Doing it will make me feel more like I belong." He replied. "Ok?" She said unsurely.
Zelda was taking care of Cobalt in his gem form for a month before he came back in a form that fit more of the mold for a modern human.
"What's with the blue rock?" The owner asked Zelda. "It's Cobalt." She replied as his gem started shining and he formed from it. "Hi Boss." Cobalt said to the owner as his face just about melted. Which brings us to now.