Luna
Jul 23, 2015 4:47:23 GMT
Post by Sweetdreams on Jul 23, 2015 4:47:23 GMT
Name:Luna or LuLu
Appeared Gender:Female
Appeared Age:18-22
Gemstone: Rainbow Moonstone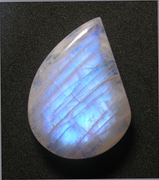 Gemstone Location: Middle of the Throat and Left Hand
Corrupted:(Y/N) No
(If Corrupted)Monster Form: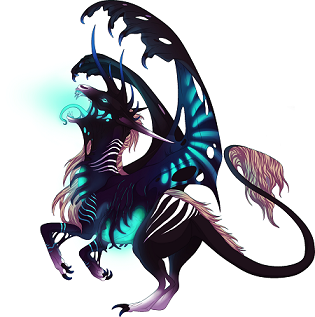 (Not my artwork)
Appearance: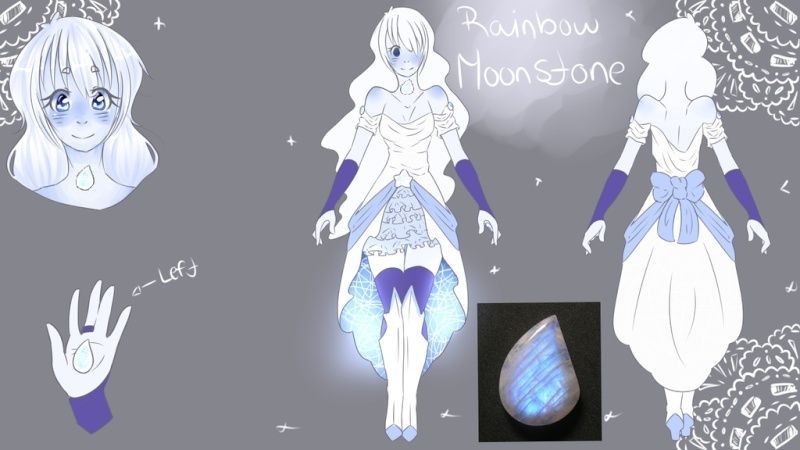 (Not my artwork)
(Original Artwork by
Unconn
)
Standing at 5'2 Luna isn't the tallest gem around or even the strongest looking,but looks can be deceiving. While it is true she has two Gems on her body they look slightly different in one main aspect.While the Gem on her left hand is completely intact and shines brightly with many colors,the stone that rests in her throat is slightly cracked and scratched,looking dull even in the brightest of lights. This has caused her the inability to talk and much of her memories to be lost.
While her hair normally is pale as moonlight itself with small lights making it looked like the stars themselves resting in it. Don't be surprised if you see it suddenly change color if she is over come with a powerful emotion.An example would be if she was over come with happiness her hair will glow and turn into a mix of light blues and dark greens. Where something like depression would be a mix of black and grey and seems to dull.
Personality: A timid but respectful girl,it wouldn't be surprising to see her bowing politely when first meeting someone...Or every other time she runs into them..Due to her lack of memories she has an almost childlike nature finding wonder in just about anything. It is because of this she dislikes fighting and it becomes clear if you looked at her weapons normal forms. Not normally one to anger easily,although being unable to communicate her thoughts and feels to others is a daily frustration for her. But this has also help her realize that a person, gem or other should not be judged by their words but have their actions. But this has also created some major self esteem issues for her especially fusions,with her cracked gem lack of voice and only a small handful of memories she sees herself as imperfect not meant to be fused with other gems. So she surrounds herself with other broken gems,ones damaged beyond repair,ones missing chunks or broken into pieces,even just small shards.Hoping that one day she can find a way to fix them,to give them another chance at life again.
Likes:The Moon,Art of any kind,Light,Color,Helping others,Music,Cold,Finding Gem Shards
Dislikes: Thunderstorms,,Complete Darkness,Being Alone,Her inability to talk and lack of memories.
Fears:That she will die without a purpose
That she will die alone
That she will never be able to speak
Weapon: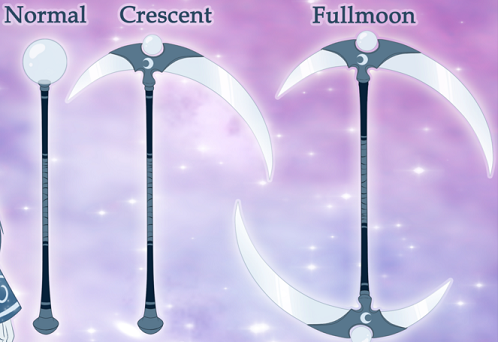 (Also not my artwork)
Luna's first weapon doesn't look like a weapon at all in its normal form,a simple staff made for defense more then anything. But unknown to most others are the two other forms. The Crescent form that turns the simple defensive staff into a scythe meant for not only slight defense but attack as well. The most powerful form is the Fullmoon form of this weapon,made purely for offensive fighting it has has similar look to the Crescent form but instead of a single blade resting at the top it has two blades one at the top and one at the bottom facing the opposite direction.
Waters of Life:Much like how the moon controls the tides on earth Luna has the ability to control water,her made use for it is writing what she wants to say in the air with it. She can also work with it on a molecular level to make it denser allowing her to walk on it. She even has the ability to create copies of herself made from water. But anymore then one or two is different for her to control without great amounts of concentration and can even leave her with crippling headaches.
Spectrum Lights:When out in the open Luna will absorb light from both the moon and sun. This light is then stored inside her and will often glow in darkness due to this. A few ways she releases are:
If overcome by an emotion the stored light inside her will bleed out mainly by her hair in different colors and shades,each emotion having their own respected colors.
If needed she is able to store light inside the bubble that sits on the end of her staff as a sort of bubble lantern if she needed a more focused source of light.
In battle she can force light into the blades of her weapons making them glow and become heated or building up pressure before letting out out as a beam or wave as a sort of ranged attack.
Fusions: None
History:Luna's first memories are of darkness and cold in what seemed like a cave as she seemed the be surrounded by the smell of earth and the feeling of stone. Seeing as she could not go backwards she slowly stood up and walked forwards. It was strange,this tunnel like cave felt familiar even smelt like something calming but couldn't really but a finger on what and the more she tried to remember the quicker her head started to throb and spin. But suddenly she was knocked back as she suddenly ran into a solid mass. Falling back she rubbed her bottom trying to chase away the pain from the fall before blindly reaching out only to feel solid cold rock under her fingers.
This sparked her panic once she realized that this was the way she should keep going. For what could of been hours or even days she pushed and dug at the dirt surrounding that rock convinced that it couldn't be a solid wall and that maybe it was just a rock blocking the entrance. Then after what must of been days later it finally gave some, moving forwards and a silvery light flooded through the crack. Luna remembered that this light was her first taste of beauty on this world. For hours she pushed and shoved at the rock that kept her apart from the source of the beautiful light.
But right before she gave the final push the light driving her to escape the darkness she had been stuck in for what seemed like an eternity vanished. Panicked once again she gave a final push with a greater desperation. Then suddenly the rock slid away causing her to fall forwards. Quickly she got up to see..darkness..She knew she was outside due to the cold breeze that hit her but she looked around but couldn't find that silver light she has seen as a small hope that she wasn't alone. That small hope now dashed she fell to her knees tears fall from her eyes as curled up feeling more alone then ever before.She felt as if she would vanish at any moment,swallowed up by the darkness.
It was then that she felt a stabbing pain in her hand,pulling it away she could just barely make out a rock of some sort. Picking it up she tried to get a closer look, thankfully the silver light appeared once again,looking up Luna found the source of the light to be a sphere,almost a blinding white against the black sky. The moon she later learned it was called lit up the area enough so that she could finally see what had stabbed her hand. A gem rested in the palm of her hand a large chunk of it broken and jagged,looking down at the ground she saw the rest of it laid in long thin shards where the rock blocking her cave had sat before she had moved it.
It was while she was staring at these shards that she began noticing small spots of the earth becoming damp. Reaching up to her cheeks with a free hand she felt small droplets of water running down them, she had unknowingly started to cry,something about seeing this broken gem seemed to upset her,in a way she could only describe as heart break. But no matter how hard she tried she couldn't recognize the gem or put a face to it.
Her lack of memories,lack of voice and the recent stress and loneliness finally broke her and again she started to cry,much harder then before curled up on the cold hard ground clutching the broken piece of gem tightly to her chest,as if it might provide her with the answers to her questions if she just held it tight enough. Who was she? Where was she? Why the hell could she not remember anything and why was it no matter how hard she cried and screamed she couldn't make a sound?
Character Arcs:
-I plan to have Luna gain back fragments of her memories slowly,some might be pointless while others will be a piece of the puzzle of who is was before losing her memories.
-I will also like to have Luna struggle between what side she wants to be on,if for example she ends up making friends who support both the Homeworld and Earth
-I will reveal who the shattered gem in her history was to her once she regains all of her memories of them,but not all of them will be in order that could make her struggle with not only the person they were but also who she used to be.
-Some of her memories might not put both this gem and Luna herself in a good light,causing her to start doubting herself about who she really is and could possibly cause her to enter the first stages of Corruption.