Post by solari on Nov 30, 2015 10:50:08 GMT
Name: Sanite
Appeared Gender: female
Appeared Age: mid-twenties
Gemstone: Moissanite
Gemstone Location: left shoulder
Corrupted: No
(If Corrupted)Monster Form: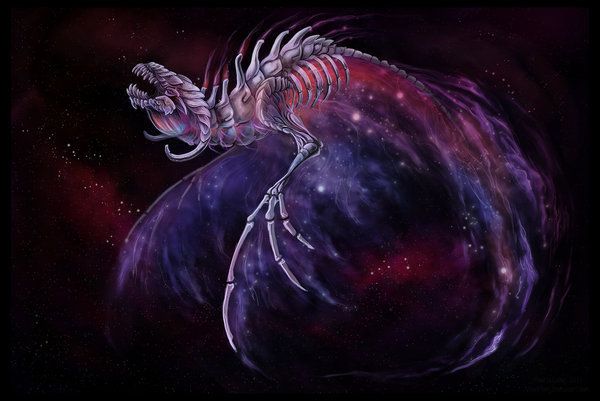 Art by AbelPhee on Deviant art
Appearance:
Doll design by me. Dollmaker is the Gemsona maker on Doll Divine.
Personality: Most would describe Moissanite as unusually laid-back for such a young gem. However, while this assessment might appear correct at first glance, the argument in truth is fundamentally flawed. Moissanite is not so much laid back as she has an incredibly low tolerance for bullshit. With each movement her brain is systematically calculating the exact coordinates of her limbs, plotting the trajectory of extensions of her body such as her weapons, rationalizing mass, speed, and terminal velocity per celestial positioning not to mention the complicated instinctual mathematics that goes into wielding her abilities. In short Moissanite simply doesn't have time to deal with your petty concerns like the fact she's currently punching your face in. Like any genius though Moissanite has her…eccentricities and what might be ranked within her mind as important or frivolous can vary wildly depending on her own personal perception. She's prone to walking away from anything she considers too much trouble, or dealing with it in the most direct, efficient, and time saving manner possible to allow her to return to whatever she was previously doing. For the most part however, Moissanite is a rather calm, warm gem, that never seems to be quite 'all there' and can often be seen smiling to herself. Should the rare instance occur that someone were to garner her full attention be it in anger or interest the sensation of being pinned beneath those mirror bright refractal eyes is often described as feeling not unlike an ant beneath a magnifying glass. By nature Moissanite is an incredibly curious gem and prone to absorbing as much knowledge and scientific data as she can get her hands on. She is almost infantile and innocent in her need to explore and experience new sensations, taking a pure and simple joy for the very act of learning.
Likes/Dislikes:
Likes: Navigational equipment, spyglasses, star charts, maps, the sun, stars, star gazing, dancing, books, knowledge, the sea.
Dislikes: Annoying noises, interruptions, wasting of useful resources, thoughtless panicking.
Fears: Losing her mind
Weapon: Moissanite's summoned weapon is that of a razor shield. Suitable for fending off attacks and lashing out with the impossibly sharp edge should an any enemy grow close. She prefers to fight with two of them and can often be seen putting on a dazzling acrobatic display of spins, kicks, and deadly slashes.
Ability 1: Turn Back The Clock: Within a range of five feet Moissanite is able to reverse, fast-forward, or stop the flow of time, allowing her to heal gems, items, and anything that steps within her range back to their pre-damaged state. That or temporarily drop them into stasis. On a willing recipient the stasis can last for quite some time, allowing any degradation to their state to be temporarily paused for safe transport for later healing. On an enemy the stasis lasts nothing more then a scant few seconds, barely enough time for Moissanite to hastily side step or duck. To the person dropped into stasis it appears as though no time has passed at all and any effect they take while in stasis will effect them only once they are released from it. This ability is incredibly exhausting and must be used sparingly especially when used to heal and can only be activated three times per thread without consequences. When activated too many times it can cause her to poof back to gemform.
Ability 2: Defying Gravity: Within a range of 10 feet Moissanite is able to selectively switch gravity on and off at will allowing her and those she targets to float weightless.
Fusions: None, but her dance style is similar to swan lake.
History: With Homeworlds growing borders and the ever mounting need for materials by which to create new gems a small team of elite scientists set out to experiment with alternative sources. Seeking to create a gem of superior brilliance and intelligence that would even rival the ever powerful diamonds the research team managed to match course with a hurtling meteorite. An iron, nickle, and silicon carbide makeup provided a fertile base for a miniature specialized kindergarten created not to make many gems, but one. Embedding the machines within the meteorite's surface they were careful to program for a long and meticulously incubation period. Once the gem had formed rather then shriveling up from over incubation the meteorite would become hollow, acting as a protective 'shell,' a natural space ship if you will, for it's precious cargo until it could be recovered. Job well done the meteorite was released once more upon it's galactic course and the research team settled back to wait and watch as their work unfolded from a distance.
However, they would never get the chance to see the fruits of their labor. Upon returning to Homeworld the scientists were placed under arrest and brought forth under charges of treason. The Diamonds would not tolerate the risk of some new potential rival and thus the entire team was either shattered or had their gems locked away within artifacts leaving the experiment they had dedicated their lives to to drift aimlessly through space. The Diamonds assumed that over incubation or possible destruction by space debris would be the end of the upstart, but they were wrong. Instead the Meteorite hurtled on, protecting it's sleeping cargo as it grew till it inevitably became caught within the gravitational pull of a distant planet. Entering the atmosphere the meteorite plummeted towards the planets surface, crashing to earth as it's resident gem emerged. What stepped forth was a Moissanite, almost an exact twin of her distant diamonds cousins except for being doubly refractive. A gem of all the superior brilliance and intelligence that her creators had ever hoped for. One who might outshine even the Diamonds themselves. All their work, research, time, effort, and even their lives stood embodied in her and Moissanite was ignorant of it all.
Character Arcs:
Not Alone: Moissanite encounters her first other gem.
Targetting: A homeworld gem aware of Moissanite abilities try to use them for ill.
Time Marches On: Moissanite learns of her history and the treason inherent in her creation.