Post by Flurry on Jan 11, 2017 18:24:24 GMT
Name: Flurry
Appeared Gender: Female
Appeared Age: 12
Gemstone: White Spinel
Gemstone Location: Barret (she can't take it off)
Faction: Crystal Gem
Corrupted:(N)
Appearance: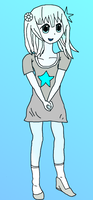 Height: 3'10" (One of her barrettes is a star, the other is her gem)
Personality: Flurry is shy, soft spoken around strangers. She is scared of strangers and doesn't trust anyone right away. Once she warms up to whoever she meets she really is affectionate toward them and will fight to the death by their side. This can be a problem since she is more of a support gem than a fighting gem. She is kind to homeworld gems, until they hurt someone at least.
Likes/Dislikes:
+Ice-cream
+Plushes
+Pillows
+Her Friends
+Crystal gems
+Anything cute
+Friendships between her friends
-Cats
-Violence
-being called small
-Human food that isn't ice-cream.
Fears: Her friends getting hurt/killed, Humans being hurt/killed, Fire, Hot places, and Chickens(they chase her)
Weapon: She doesn't know how to summon it yet. It is unknown if she ever will.
Once her weapon is summoned it will be a Mallet with a star on it.
Ability 1:
Cloud Creation(Modified)
This ability is almost Identical to Amethyst's. She can create anything out of cloud that is 7x7x7 feet or less. These can take any shape, but still have a cloud texture. She can create only one at a time. While she can ride on these clouds, they cannot go up and down and can be created at a maximum of three feet above the floor. For example, if she made a cloud three feet above a mountaintop, she wouldn't be able to get down from the cloud without falling and hurting herself unless she could get off at a surface of the same height. The cloud cannot move down or up. Also, even though the cloud can hold the weight of two quartz soldiers it is very weak to piercing or smashing attacks. It is so weak in fact, that the only advantage it has in combat would be to cross gaps by flying on it. If hit by an attack, the cloud dissipates. The cloud can also snow, but the snow melts quicker than normal, it cannot amount to much snow, only enough for a snowball fight. Flurry uses this cloud so that she doesn't appear as short as she is.
Ability 2:
Healing Bubble
Flurry can create a bubble of healing energy. When produced, for one post Flurry and her friends are protected. This bubble also heals all of the injured gems inside (max 3 including flurry) it also unpoofs poofed gems, heals cracked gems, but doesn't unpoof and heal a cracked gem. This healing affect takes two posts to activate, one post if the gem is only slightly wounded and not cracked. On the first post the gems inside are protected from attacks. While this can be an affective ability, it has severe side effects. For the next five posts, Flurry cannot do this again, and for the next two posts she can't use her clouds or even run, this makes her a sitting duck for any attacks. She practically sacrifices herself using this.
Fusions: N/A
History:
Flurry was sent to heal the troops when homeworld was colonizing earth. She was serving under Pink Diamond at the time, serving in anti crystal gem skirmishes and battles against corrupted gems before the gem war. Her superiors knew that she hated violence but she was easily manipulated, naïve at the time. She was malleable at the time, and accepted whatever she heard. However, sometimes she would be allowed breaks to fly around earth with her cloud. During these breaks she would visit a fountain that could heal gems. The first few times she visited she never met any gems. One time she was visiting the fountains she met A crystal gem. Since her superiors had lied to her about what was happening, they hadn't even told her about the crystal gems. This gem would teach her about the value of life and would explain things she had learned about earth. While back with her team Flurry was treated as a nuisance she was treated kindly by the gem. This lead Flurry to make the decision to leave the homeworld gems and become a crystal gem.
One night, she fled her group to join the crystal gems, whom she searched for on her cloud. It took her several days to find some members. These members took her to their current base. Unfortunately, Rose Quartzm Their leader and some other Crystal gems had left, but they had taken down communications with homeworld. Just like the gem from the fountain, the other crystal gems treated Flurry with kindness and thought she was 'cute'. Flurry was assigned to heal wounded gems and to go on recon missions before the Crystal gems would attack. On the many adventures Flurry went on she would meet humans. Occasionally she helped a fighting gem track down and defeat a corrupted gem, all the while learning more about earth on her breaks. Although she had a bad history with Homeworld gems, she still does not like violence, and will refuse to hurt them herself.
Summary. (easier to read)
-She used to be a healer for homeworld under Pink Diamond.
-She met a gem, who then converted her to the Crystal Gems
-She fled her old team and became a Crystal gem herself.
Character Arcs:
-Learning to be more brave in situations of violence
-Befriending a homeworld gem
-Summoning her weapon
-becoming brave enough to start Fighting her enemies.
Flurry's Theme