Post by Fire Agate on Feb 6, 2017 20:54:37 GMT
"A Quartz that doesn't live, breathe and die for the Diamonds is not a Quartz,
but a defective piece of dirt,
worth nothing more than shattering.."
- Fire Agate to Quartz Soldiers



Name: 
Fire Agate (Facet-4G2H Cut-7LF)
Appeared Gender:
Female
Appeared Age:
35-40

Gemstone:
Fire Agate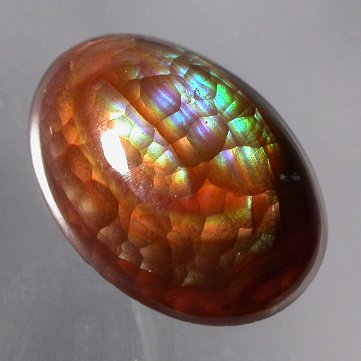 Gemstone Location:
Abdomen
Faction:
Homeworld (Yellow Diamond's Court)

Corrupted:
No.
Appearance: ((OUTFIT DESIGNED BY njrk97 in concordance with my shoddy artwork.))
Fire Agate (Facet-4G2H Cut-7LF) is of imposing stature as any other Agate. She is quite taller than common Quartz soldiers. Her figure is rather powerful, well-built and bulky, as is to be expected from a gem of her type. Her face is strong as well, holding a dulled expression most of the time.
Her right eye rests behind a milky glass of sorts, hidden from the faces of other Gems. The other eye is a much bigger curiosity, though. Not many people have actually seen what it
looks like. Regardless of that, there is often glow emitted from beneath the hair that covers the half of her face. Only on rare occasions this fact wouldn't hold true. Should such thing occur, it is a sign that Fire Agate is angered, using the cybernetic eye, resting beneath the fringe as a method of instilling respect and/or fear.
Her lips are quite pulpy, but not too much. Her hair is of slightly lighter peach color than the rest of her body. It is rugged and shape-wise resembles a fire of sorts, adding more to her name.
The adornments which Fire Agate wears are not very different from other Agate's, they feature several logos of Yellow Diamond, specifically on her knees and scarf, constantly wrapped around her arms and chest. Most of her clothing sports shades of the orange and grey color, but her neck, gloves and boots are pitch-black, seemingly resembling a rubbery material. Additionally, the aforementioned boots have metallic plates attached from the bottom. This makes Fire Agate's footsteps very loud and recognizable, thus signaling her approach before it happens, she is capable of removing these plates, for they are not part of her physical form.
Last but not least is her gemstone, which is located where a human being would have had a bellybutton. It's of searingly orange color, rimmed with several darker orange stripes. The whole gem is of triangular cut and features a smooth surface without a facet.
Personality:
Fire Agate is a militant and obedient gem, often going to great lengths to please her superiors and discipline her inferiors. As many other Agates, she servers as a military commander, controlling and organizing Quartzes and Rubies. While many other Agates would choose to rule their assigned gems through fear and oppression, Fire Agate believes that if she is willing to do something, her soldiers should be too. Of course, this "I wouldn't have my soldiers do anything I wouldn't do." mindset often gets the better of her, forcing Fire Agate in all sorts of uneasy situations and decisions between obeying commands and giving them out, for sometimes the demands of her superiors are simply impossible with her mindset. While she isn't arrogant, she is often shown to value her position in the Gem hierarchy. 
Regardless of her personality being more sympathetic than the other Agates, Fire Agate is still an Agate nonetheless. As such, she is by no means avoiding distributing physical and mental punishment to soldiers that disobey her orders or orders of her superiors. She is known to punish only rarely, but when that occurs, her punishments come close to poofing a gem from the amount of physical and mental abuse. This sometimes makes other gems of lower casts feel uneasy when in her presence, knowing the tales of Fire Agate's brutal repercussions against things such as disloyalty, insubordination or simple laziness. She herself claims that she will stand for every decision she makes confidently, no matter what it is. Should she be punished for such, she will gladly accept it with pride.
Simply put, Order and Law must be maintained.   
Likes:
Fire Agate loves when things go according to design, a direct effect of Homeworld's hierarchy holding strong belief in order. Some could consider her to have an "OCD" of sorts in that regard. Alongside that, Fire Agate is known to enjoy military drill and longs for action just as much as the next military gem. She is willing to go to great lengths to please her diamond, which also makes her joyous.
Dislikes:
She absolutely abhors fusion of different gems with fiery passion, considering it to be the biggest tabu of them all. This is obviously understandable due to her being a Homeworld gem. She lives in a world where preaching of Fusion being a cheap tactic to make weak gems stronger is daily bread, after all. Besides that, she also very much dislikes when anyone attempts to be rebellious and views any and all Gems that defy the diamonds as defective and worthy of being shattered. 
Fears:
The biggest fear of Fire Agate is loosing a Diamond, the Homeworld or anything it stands for. She loves her home with insane patriotism and is very proud of it. Should anything "ill" befall her home, she couldn't hold with the anxiety.
Weapon:
A Disciplinary Cane
As a military officer, Fire Agate has means of instilling discipline and orderly behavior onto her subordinates. A very flexible cane is her weapon of choice. It can extend to almost twice the length of her body or be as small as a hand-held pointer stick. Alongside that, the cane's hardness can be adjusted according to needs. Therefore it can serve either as a whip or a staff of sorts, should there be a need to use it with those purposes in mind.
 The qualities of her weapon do not end there. The cane can be ignited by Fire Agate's pyrokinetic abilities and keep burning constantly or until put out by water, therefore it can serve as a lethal weapon to organic lifeforms. Should it be ignited to high enough temperature, it can even serve as a weapon able to destabilize Gems and fusions. Luckily for Fire Agate's opponents, she is not able to generate that much heat under normal circumstances.
Many gems have specific states of minds associated with summoning their weapons, Fire Agate holds true to this. Her weapon is associated with feelings of anger, spite, envy, dominance or pressure, therefore she has no problem summoning it most of the time, because chances are that her position on Homeworld will ensure the presence of at least one of the aforementioned criteria.

Ability 1:
Fire Agate has enhanced pyrokinetic abilities. Unlike Rubies, that can't control their heat-aligned abilities, Fire Agate has absolutely no problem controlling them into great lengths and measures. She is known to be heavily resistant to high temperatures, some of which would be found either unpleasant or straight-out damaging by other gems. Alongside that, she can manifest, control and put out fires in radius from ten to fifteen meters. Therefore, it makes her a perfect exterminator of organic life, which is hardly resistant to high-temperature conditions. This ability has a certain degree of effect on lava or molten metals, through it doesn't even come close to her control of straight-out fires. Under normal atmospheric condition, Fire Agate's abilities are so strong and volatile that they can even harm Gems that do not posses high levels of resistance to heat such as Bismuths or Rubies.
Fire Agate's flames are also related to her emotions, specifically anger. - The more angry she gets, the more powerful and dangerous the flames become. The downside of this is the fact that Fire Agate is prone to loosing control of her abilities in this state. This would mean the flames would start spreading like a wildfire, thus hindering Fire Agate and/or her allies.
Her fire is not immune to water and can be put out quite easily, making her a terrible fighter in rain, for she relies heavily on the ability in long-ranged combat. She also dislikes fighting against Gems with hydrokinesis. That is obviously due to the facts mentioned above.
Ability 2:
 Despite ranking higher than a common Quartz Soldier, Fire Agate still has the signature ability of Quartz-typed Gems. She herself puts a deadly take on the attack with the ability to protrude fires from the sides of her Spin Dash. This enables her to set anything flammable ablaze with her Spin Dash.  
Fusions:
None. Fire Agate dislikes the act of fusion and wouldn't even fuse with one of her own kind, holding to the claim that Fusion is just a tool for weak Gems of lower casts.
History:
Fire Agate was originally created on Homeworld in one of the many military-oriented Kindergartens alongside few other Agates approximately 7 500 years before the Earth was discovered. Her hole was average, not particularly interesting in any shape or form. By all standards, Fire Agate was not rare or unusual. Her ground condition was perfect, through. That reality went in favor of her stature and power. The Peridot that oversaw her injection later remarked that she was "good enough" for an Agate gem, hinting at some untapped potential.
Due to Homeworld's cast system, Fire Agate was imminently assigned as an officer to a small squadron of Quartzes, specifically Jaspers. She trained them from the day they met, quite literally. The first encounter they had was completely formal, devoid of any emotion or attachments. Through years of continuing this practice, Fire Agate eventually became the Headmaster of a military academy for Quartz-type gems. The facility was by no means a rarity and was considered just one of many. Still, Fire Agate took pride in her work and proudly claimed that her Quartzes became one of the best soldiers Homeworld has to offer. It is unclear if that statement is true or not, but clearly Fire Agate did something right. This is especially if we consider that it didn't take long before she was recognized for her qualities by a rare aristocratic gem from Yellow Diamond's court, presumably one very close to the Diamond Authority itself. While Fire Agate didn't manage to peek too much of the Authority's interest, she was given a place in the court of Yellow Diamond as one of the lesser military officers, taking care of and organizing guard duties and security of various Homeworld facilities that belonged to the Gem elite. She often used to command Jaspers and Carnelians, which were known to be one of her favorite Gem types to work with. She especially favored the Jaspers due to their strong and obedient nature, qualities which she fondly shared with them.
It was around this time that rumors started sprouting about Fire Agate's eye. Some of them were very far from truth and seemed superstitious, others were dangerously close. Regardless of that, Fire Agate disapproved of any discussion regarding her bizzare eye and why she covers it most of the time. - Still, this mysterious eye puzzles many gems and instills fears in her inferiors.
Since then, Fire Agate lost much of the thrill for the job she once loved. It made her grow a sour and salty demeanor. The mundane tasks assigned to her simply dulled over the hundreds of years she spent preforming them. Now more than ever, she longs for conflict to prove that her Quartzes are superior to any other and that she herself is an Agate worthy of higher positions than commanding guards for the aristocratic Gems. Believing this, Fire Agate is ready and determined to better herself and her own units by any means necessary.
Eventually, she happened to be one of the first few Homeworld Gems present on Earth, accompanying many aristocratic and noble gems with her Quartzes, guarding building operations and supervising security to the best of her capabilities. As of late, the rumors of these so-called "Crystal Gems" eluded and intrigued her at the same time. Something Fire Agate would want above all is to face against the Crystal Gems at least once, proving that she indeed is capable of leading soldiers into war.
NOTE: This backstory takes part from Agate's Creation to time before the colonization effort of Earth. This is mainly due to the fact that the Galaxy Warps are destroyed after that, leaving Earth stranded according to the custom lore of the boards.
Character Arcs:
(I guess? - This is supposed to be what we would like to do with this character, right?)
 Enemy Abound 
- Fire Agate fights the Crystal Gems, loosing to them.
No Way Out 
- Fire Agate deals with the depression of loosing.
Unless I Care
- Fire Agate strives to get better in wake of her defeat at their hands.
Gem for a Gem
- Fire Agate challenges the Crystal Gems for a rematch, taking her vengeance as the victor, possibly poofing a CG too.
Recognition Long Awaited
-Fire Agate becomes a recognizable member of Yellow Diamond's court.

Frenemies
 - Agate is strangled on an unspecified place, far from any Gem or Human civilization.. And she has a Crystal Gem company. Spending time with the Crystal Gem will make Fire Agate question her allegiance to the Gem Homeworld.
The War Begins -Have Fire Agate take part in the Great Gem War.
EDIT: To clarify, I don't mean she is going to take on the whole faction, lol. I just want Fire Agate to have an encounter with some of the Crystal Gems to give her motivation and thrill in life. This is because she basically lost the "spark" according to her backstory. Obviously, I want to go much further with the character arc, but I feel like it would get too spoilery if I openly posted it here. I would rather PM the remaining arcs to the people who would like to be involved in them. Long story short: There are quite a few arcs I would like to do between Frenemies and The War Begins.