Post by Pink on Feb 14, 2019 21:50:26 GMT
Name:
Pink
Appeared Gender:
Female
Appeared Age:
18
Gemstone:
A Soft, Pink Pearl
Gemstone Location:
Chest
Faction:
Crystal Gems
Corrupted:
No
Appearance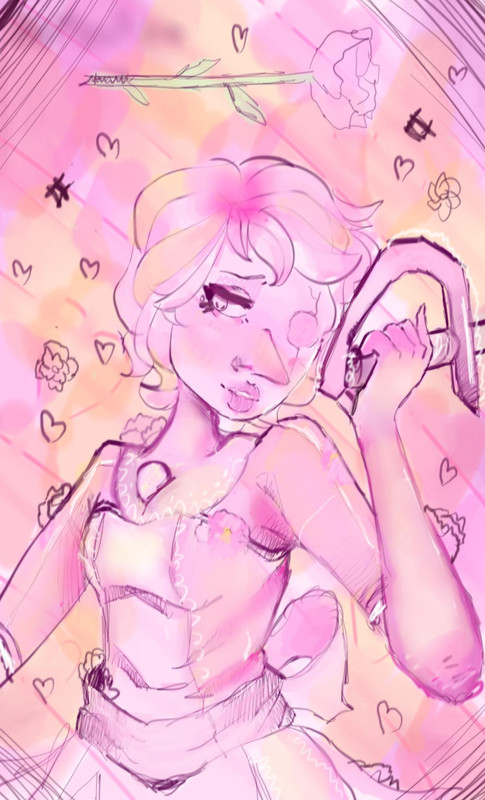 Pink's appearance tends to favor that of her pearl origins, specifically the long, elegant nose, the lengthy slim body, and of course the puffy, frilly outfit she sports. More-so with lace surrounding her pearl, she finds herself in a beautiful short dress with a lace outline, half sleeves falling from her shoulders with a plain design covering every inch of her slightly pink dress, a large white-pink ribbon tied around her waist. From there below, her stockings reach up to her knees, white in hue and thin with frills while her pink ballerina shoes engulf her feet. However, while her body may be cutely organized, her hair is simply a mess of curls and waves coming to the bottom of her chin, resembling that of a rat's nest. Beneath her clothes lies the fairest of soft pinks colorizing her skin, while something close to white leaves her messy hair slightly colored. Saving the best for last, her gem is something to be marveled at, it's complexion mimicking that a gem that can be seen through partially, albeit only being the colorization of her pearl with slight gold hues.
However, there is a scar across her left eye that leaves her form rather disorienting, due to her abuse.
Meanwhile her weaponry is human-forged, several years old with the lace that decorates the pummels worn and torn from constant use, a soft pink ribbon wrapping around the handles while the steel from which it was forged has become dull and scratched up. With a few gold elements decorating the handle, the rest of the blade glistens even in the dimmest of light due to her care.
Personality:
The pearl you see before you is not what you would consider as a classic, normal Homeworld pearl. Shaped by a thousand years of mental abuse and judgement, this pearl has found her independence through secrecy and betrayal to her kind, taking up arms against those who would use her like an object and treat her as such.
Pink namely is a quiet, cautious soul, forever silenced by the secrets that still hold her mind hostage despite her backlash against Homeworld. She can seem distant to the average gem, or even similar to a Homeworld pearl by her behavior around others, however one has to realize that she was forced to believe that what she says wasn't worth anything, constantly treated like an object as all pearls are.
This forced silence has also made her quite secretive over the tiniest things, subconsciously fearful of backlash or threats for not noticing a certain detail, or not informing someone of certain behaviors. However, despite the silence she now craves, she is an excellent listener, and talking to her can ease the mind of any gem as she'll sweetly tell them how wonderful they are as a person, regardless if it's true or not.
Though regarding her origins as a Homeworld pearl, Pink is not a clean-freak nor very organized despite her appearance, as her hair is more a representation of her very being then that of her outfit. Not to say though she won't clean up messes that threaten the integrity of her home, as she does maintain a somewhat clean atmosphere where she calls home, if she even has one at the time. However, she is still just 'meh' when it comes to cleaning.
Simply but last, Pink is a heavy fan of organics and sometimes other gems, specifically that of the human race, and finds herself finding beauty in everyone she encounters, sometimes even feeling utmost compassion for those who seem to have suffered as she has, especially children.
Likes:
Azaleas, Organics, Praise, Dancing, Nurturing, Farming, Organizing.
Dislikes:
Corruption, Punishment, Food, Speaking, Cleaning, Singing.

Fears:
Reliving the past.
Weaponry:
As stated before, Pink's weapons are human-forged, several years old with lace outlines, a pink ribbon wrapping around the handles, while the steel from which it was forged is dull and scratched up.
Abilities:
None, besides the basic gem-related things such as bubbling items, gem storage, and shapeshifting.
History:
Exactly one thousand years ago, Pink was created for a high-class Morganite in Pink Diamond's court, rushed in development to be of service early on as Morganite requested. Due to this Pink was defective when she emerged, and though she did her best to keep this secret, she never could fully satisfy her Morganite, who while had patience with her due to her young age, grew tired of Pink's excuses several hundred years later. However, between that time Pink could say was the best moments of her life, traveling among the stars with her Morganite, attending balls and other high-class parties, and overall, learning about the universe as a whole.
Yet time went on after that, Morganite eventually lost her patience with Pink and became hostile and relentless, rushing her pearl and forcing more work upon her that she had previously drawn back on. This eventually led to Pink breaking due to her young age and defect, and although Pink tried her best, she became a piece of junk to her Morganite, especially with her scar that damaged her form and her former perfection. She was mentally abused from then on, ridiculed, and constantly put down and forced to remain on the ship for hundreds of years at a time to hide her imperfect pearl, who still couldn't fulfill the requirements her Morganite gave her.
Eventually, even Pink's secret was unleashed, and it was then that Morganite could no longer handle her pearls secrecy and inability to work correctly, scheduling her to be replaced sometime after their arrival to the moon base of Pink Diamond, her threats and assumptions regarding Pink's fate sending nerves riddling with fear in Pink, and eventually she broke further, however not physically, instead mentally as she took up arms against Morganite with her Morganite's own weapon, and threatened her as Pink made her escape to the planet, her escape pod landing her straight in the wilderness.
Now free from Morganite's abuse, Pink encounters her first humans, several kind souls who introduce her to life on earth further, Pink falling in love with the many activities that she, despite being defective, can complete easily. She eventually becomes a farmer in a small community of humans and learns a little bit about being her own gem, and although she eventually hears word of the crystal gems, she's simply too afraid to strike out against the authority, needing a subtle push in the right direction and training to even think about fighting with others.