Post by Purple on Aug 29, 2019 0:22:44 GMT
Note: Everything that happened to the original Purple Sapphire is now noncanon to the RP.
Name:
Purple
Appeared Gender:
Female
Appeared Age:
Around 15, her actual age is around a couple hundred years old
Gemstone:
Purple Sapphire
Gemstone Location:
Forehead
Faction:
Homeworld
Corrupted:
No
Appearance: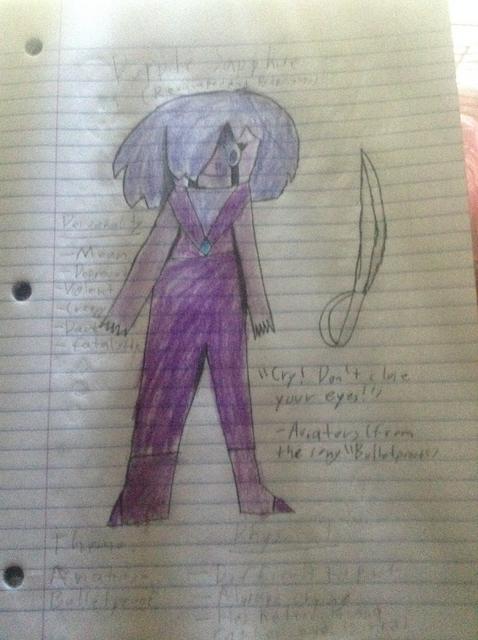 Personality:
Purple is depressed, mean, violent, and creepy. She has rather dark tendencies and is rather fatalistic. Being an assassin, Purple takes pleasure in almost nothing. She does have a top secret love for food, but will only sate her obsession with all things edible when no other gem is watching. As such, a majority of her time enjoying herself is the few times she is sent to poof or shatter a rebel. Her smile is almost always fake, and tends to creep out easily scared gems. She's not very used to the environment and inhabitants of Earth, so she might act a little shy if caught there. Actually, if she gets used to one world she'll get unused to the other, so she makes her missions on Earth as quick as possible to avoid getting nervous back on Homeworld.
Likes/Dislikes:
💗 Food
💗 Poofing/shattering gems
💔 Basically everything other than the above

Fears
: She is secretly trypophobic, meaning she's terrified of clustered holes.
She also fears hitting her head on things, but not as much.
Weapon:
A large cutlass. It's in the character appearance image, but not in color (which was an accident but I'm lazy to fix it). It's a bluish, purplish color.
Light Manipulation:
Purple can control artificial light, though with limits. If she can't see it, she can't control it. If she's too far away (30 feet), she can't control it.
She can move it around, dim it (thanks to also having shadow manipulation), brighten it, she can outright put it out (also thanks to shadow manipulation). I'm not sure if this counts as the same or different but she can see in lights bright enough to instantly blind a human.

Shadow Manipulation:
The same as light manipulation but with darkness, and she can additionally temporarily solidify it. It lasts about a post. She can also see in pitch blackness, although barely.

Fusions:
None
History:
Purple was accidentally made by a Peridot who overlapped an Amethyst with a Sapphire. It didn't quite create a single cross between the two, but it resulted in the Sapphire having a different color and appearance, and as a result different abilities and a different personality. For her murderous nature, she was given the purpose of poofing and rarely even shattering rebels under Blue Diamond. She spent her time fulfilling this duty, but nothing could ever make her happy. During her time on Earth, she was undercover (disguised as a Crystal Gem) when a real Cystal Gem invited her to try eating. Wanting to keep her cover, Purple agreed, and she never regretted it. Actually, she developed a near-uncontrollable obsession. She (oh-so-slightly reluctantly) poofed that gem later, and brought her back alongside her given target. She wasn't really given a reward for it, but it made her feel a little better about herself.
Character Arcs:
I'll add some as I have ideas, for now, I'll just rp with others.