Post by Kyanite on Jul 6, 2015 15:02:59 GMT
Name:
Rainbow Kyanite
Preferred Name:
- Just Kyanite
- Ky (k·eye)
- Rain
Appeared Age:
17-19
Appeared Gender:
Male
Gemstone:
Rainbow Kyanite
Gemstone Location:
Right Shoulder Blade
Gemstone Facet:
Diamond Cut, Four sided Pyramid
Corrupted:
No
Monster Form(if and when corrupt):
A giant spider like scorpion. Crystalline spikes protrude along the back, and at the tip of the Scorpion tail is Kyanite's gem.
Appearance: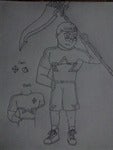 Height Chart-
Personality:
Kyanite is somewhat of a mixture of Steven's optimism, Pearl's elegance and Amethyst's quirkiness (he is not a fusion of them, just mediforicly acts similar to them). He can be very optimistic and energetic one moment, then strangely be calm and precise the next. He loves, and I mean LOVES fusion and its capabilities always eager and pushing others to fuse either with each other or with him. Maybe it's because of the passion needed to fuse, or maybe it's because he thinks it's awesome. He strives to perfect his gem, being rough and jagged as it is.
Likes:
- Fusion
- Making/Protecting Friends
Dislikes:
- Know-it-All People
- Forced Fusion (i.e. The Cluster)
- Home World Gems
- Being Excluded
Fears:
- Forced Fusion
- Torture of the Innocent
Weapon:
Kyanite wields a mighty scythe that can absorb a certain kind of energy, The more things come into contact with this scythe the more they become weak.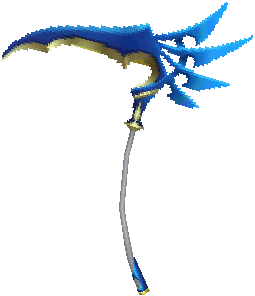 Ability 1:
Thermo Manipulation-
Kyanite can increase the temperature that expels from his body, either a specific body part such as a hand or even his whole body. Unfortunately there is a limit, if the heat exceeds a certain amount the results could be fatal.
Ability 2:
Typhokinesis-
Kyanite can create, shape and manipulate smoke, but only a certain amount can be created at a time. He can also create wings of smoke, but since his gem is quite rough and jagged his wing formations are malformed and misshapen.
**Note: Kyanite's smoke is white as snow, if and when he is corrupt will the smoke turn thick and black as night**
Fusions:
Please, eager
History:
Kyanite once worked with the Home World Gems, uncovering and studying the amazing effects of Fusion. When stumbling upon some secret files about a horrific experiment, he fled due to fear and disgust. One day he decided to leave home by joining a place that could feel compassion and love, so he went to Earth in hopes that any kind of gems would never see the horror the Home World made fusion. He continues to research fusion in secret on earth.