Post by Calcite on Nov 8, 2015 11:41:35 GMT
Main Theme


Name:
Caligo Calcite
Appeared Gender:
Ambiguous
(Doesn't care what you call them but defaults to female pronouns)
(I'll default to him or her depending on what your character thinks and if in a multiperson thread the pronouns will default to them/they if at least two different characters see them as two different things)
Appeared Age:
Child-like (Between 8 and 10)
Gemstone:
Black Calcite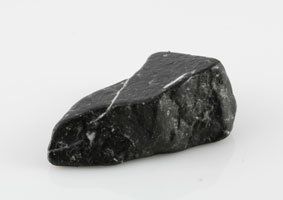 Gemstone Location:
Between her eyes
Corrupted:
No
(If Corrupted)Monster Form:
N/A
Appearance: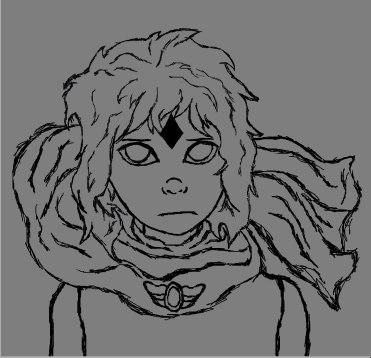 Drawn by me
Caligo's skin is a dark, dusty gray color while her eyes are black. Her hair is a paler shade of her skin, bordering on white, making her straight hair look more thin and coarse than it is. While her hair doesn't go past her shoulders and stands up in every direction imaginable due to a lack of care, her clothing is little more than a black sleeveless shirt and night-styled camouflage pants. She doesn't see a need for shoes, but occasionally wraps her feet in gray bandages to reduce the noise made when she walks. The length of hair that decide to fall near her left eye also partially covers her gemstone, which is centered between both eyes while lengthening out unevenly towards her dominant side. She is sinistral.
Overall she's small, barely reaching 4'5 in height, and pencil thin. Her eyes rarely betray emotion, they're almost similar to a doll's; but she has an open, honest face that often disarms people and allows them to trust her. Peculiarly Caligo's expression is always neutral and that always leads to others coming to their own conclusion of how she feels at that moment.
Personality:
Caligo is a pretty calm and deliberate person. As much of what she does is by design rather than actually wanting to do it, she's a person who will watch the world burn and only have an opinion on what immediately affects her. Thanks to that and her default expression, others often project their own opinions and emotions onto her so long as she's clearly paying attention and showing interest, regardless of if she even said or did anything to show she agreed.
Despite rarely speaking out on her own behalf, that doesn't mean she doesn't listen and think about things. In some ways, she feels having no opinion helps rationalize situations, and even after you see that rational solution there's no need to be disappointed when it's passed over for something else. That doesn't mean she thinks she has better ideas in certain circumstances, in fact, it's the opposite; knowing she's not made to be any kind of leader, but she's fond of giving some advice to her superiors when they're clearly not in any mood to make good decisions.
Beyond all of that she's a rather simple and docile gem whose content to serve so long as she's taken care of in return. The actual thought of being her own person who isn't owned by anyone else had never really occurred to her, ironically enough. To her, it's just the way things are.
She has an aversion to eating, as many things have citric acids in them and that causes her to get very sick.
(Fun fact: In real life, calcites melt after touching any amount of acid, including ones found in fruits and vegetables.)
Likes:
Reading
Silence
Praise
Bad Jokes
Learning
Meditating
Recording new information
Dislikes:
Being talked down to
Having to make decisions
Loud noises
Being restricted
Fruits
Food in general
Fears:
Being in pain for a long period of time
Having her research/records destroyed
Making anyone angry to the point of aggression
Fighting for her life
Weapon: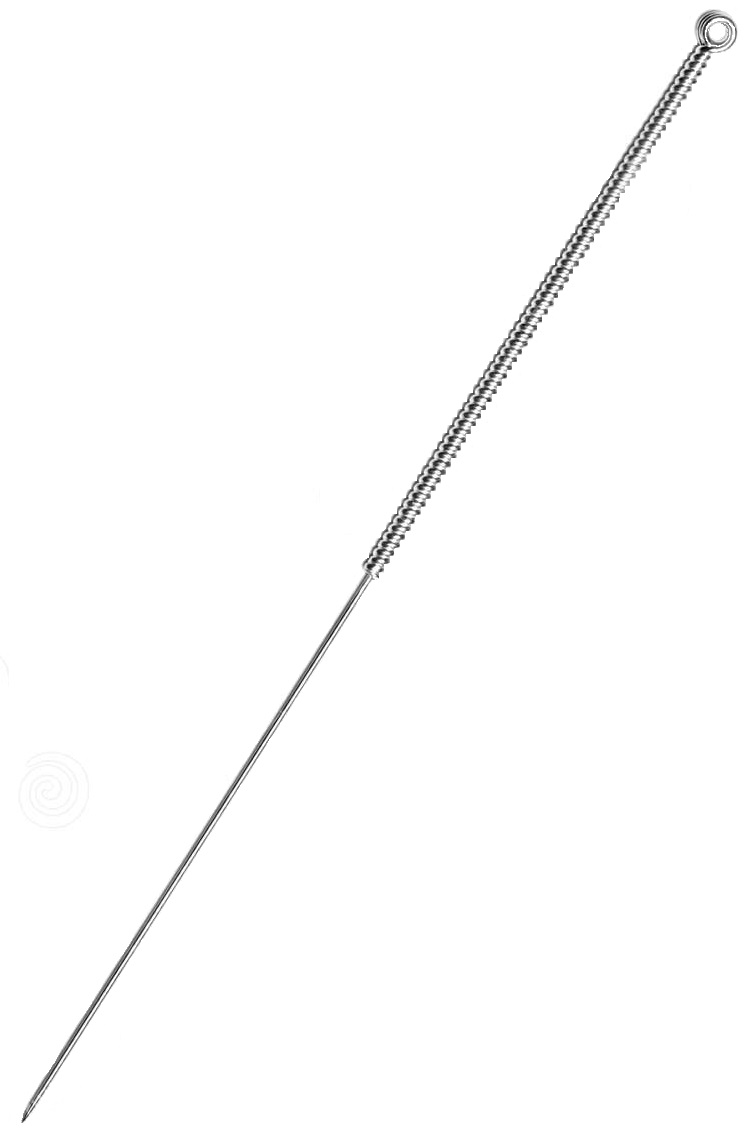 Healing needles that relax any pressure point on the body they touch. While it doesn't completely disable the point of contact they do make it harder to coordinate movement for 10 minutes. The needles are 3 inches long and she summons two at a time.
When strings are attached and Caligo has a high perch above the target (at least 2 meters) she can control the target like a puppet. The strings can be cut by another person who isn't the puppet, but while they're strong they are also extremely thin and hard to see.
Ability 1: Puppeteer
To do this Caligo needs two things: A 2-meter height advantage and the element of surprise. How it works is as simple as getting her needles into the right places, completely relaxing the muscles controlling those body parts and fully manipulating them like a marionette.
If the "puppet" is aware of what's going to happen before the needles sink into them, they'll manage some control.
After 5 minutes
(3 posts)
, they can pull away freely if they're as strong as her.
If they're weaker the post limit lengthens by 2 for every 1 level they are beneath her.
If they're stronger the post limit shortens by 1 for every 1 level they are above her.
Upper Spine
: Allows control over arms and hands
Lower Spine
: Allows control over legs
The control isn't perfect and the "puppet" can fight, taking 10 minutes
(6 posts)
before they can free themselves and 6 minutes
(4 Posts)
if she targets them again. At that point strength won't matter, nearly all muscle control is completely relaxed.
Ability 2: Triggered Mind
Again, the target has to be unaware of what is happening in order for this to work.
This ability is a rather simple form of mind manipulation, not so much as magic as secreting a scent, making the target's nerves trigger the desired emotion. If she wants them to be afraid their mind will be filled with every negative outcome imaginable, if she wants them to be completely calm they'll only think of the positive things. Situationally, this works as her making the target doubt themselves and what they're doing, allowing her to take advantage in terms of fear. Equally, when the target has information, not allowing them to think of anything negatives results in an extreme loss of caution. Both cases have the target questioning what they have to lose in giving her information.
The results do vary. Fear can make a person either skittish, distracted, or aggressive. Calm can make the person completely relaxed to the point of being distracted with positives or they'll be too happy to really think.
Of course, the target can always realize what's coming out of their mouth in those moments and hold their tongue, and there's always the chance the results of the trigger scent will make things too complicated to continue. This does work strategically in battle if she's close enough, making the opponent either too cocky or hesitant which gives an opportunity to strike.
The way to counteract this ability is holding any kind of rough material, it has to feel similar to sand, in order to distract your mind away from her calming effect.
An important thing to note is that she can't actually make her victims do anything beyond making them feel a certain way. The victim can always overcome the fear or think rationally while calm, her control beyond that is subliminal.
Fusions:
Dance
style is
Electro
None yet

History:
Calcite's had a simple and complacent life. She was one of the first gems out of the Kindergarten, a sort of test run. Luckily someone saw some use for her beyond powering gem technology despite having no physical or combat abilities. Sometimes she likes to think the gem who sold her away from Earth felt she had some debt to a misfortunate creature like herself. But she knows is was because she was worth more as a servant than a battery at the time.
As time passed she was moved around, not idly, but up the ladder of command to serve at their price. It was little more than a rumor about her ability to gain information, but powerful people couldn't help but be curious if that were true. She did get results with a slim margin for error, and her victims couldn't understand just how she made them talk. But eventually even her owner, who did treat her like a valuable item worth spoiling, saw the danger in having a gem like Calcite around. The little gem could easily be used against a powerful figurehead for the right price.
So the looming threat of being used as a battery resurfaced and Calcite had to think of a way out of that fate. Her only other option was to be a field agent, collecting information and bringing it back to her superiors from distant planets. That lead to her name being given the Caligo add-on, so there would be no connection to the manipulative servant, and being sent back and forth for stealth, recon, and occasional support missions.
Her last mission was to report any suspicious behaviors on Earth. Nothing important from what she was told, just make sure no one was starting trouble and report back if the flesh apes decided they wanted a fight. Shortly after arriving on the blue marble, the warp pad stopped working. Not that she knew at the time.
She figured it out once she'd gathered enough intelligence to say nothing of importance was happening beyond a small group of misfits being misfits. Like usual.
After waiting at least a month for the blasted things to be fixed, she shrugged and moved on, deciding to see the records the dominate species had lying around regarding themselves. It was all pretty standard as far as primitive species went, with a few differences here and there but nothing any other species hadn't done. It was still an interesting read none-the-less.
Until the message came. Then she wasn't sure what to do, then. She never really made her own decisions when it didn't involve someone who could back her up. She didn't even think she would have that old life back now, knowing she failed her mission horribly.
But she wasn't sure going to those misfit Crystal Gems were her best option either.
In the end, she decided to lay low and watch as everything played out. No need to go looking for trouble.
Flashback/Personal History/Acquiring Hermes's Speed (InComplete)Threads:

What do I do? - Ongoing [Calgio & Spinel]

Character Arcs:
-Find someone to serve
-Gather intelligence on the rebels
-Learn to trust her own decisions
-Figure out how to get back to Homeworld
-Decide if leaving is really the best option