Post by Spinel on Jan 9, 2016 0:22:36 GMT
Training Thread:
steven-universe-rp.proboards.com/thread/1055/blood-fusion-training-spinel-zircon
Users in Fusion:
Zircon
and
Spinel
Gems in Fusion: Spinel and Zircon
Who controls the Fusion: Alternate every post
Name: Fire Agate
Appeared Gender: Male
Gemstone: Fire agate (loose)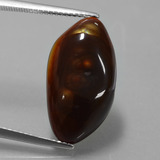 Gemstone Location: Right hand and
collarbone.
Appearance:
Personality: Due to Spinel's corrupt nature, the fusion is very unstable, altering drastically from Spinel's personality to Zircon's. (Similar to how Malachite was in the show.) When Spinel's personality shows the fusion is dark, violent, enraged, and feirce, and when Zircon's personality kicks in the Gem's personality is more kind, calm, quiet, and calculated. If either of the two give in to the other's personality, or if Spinel can keep his cool, the fusion will become stable.
Fusion Weapon: Scimitar
Unique ability: Psychological Warfare: Fire Agate can, like Spinel, peer into the minds of anyone he meets. However, the fusion has the power to implant thoughts and sights into the enemy's mind. (Not hallucinations, just extremely vivid thoughts. These sights cannot in any way alter the victim's perception of reality.) The ability to plant thoughts into an enemy's mind comes from Zircon's teleportation ability. With the ability, Fire Agate can attempt to try and distract or cause emotional/psychological pain in the enemy until they either give in or are defeated in combat. This ability can also be used passively, such as putting positive images into the thoughts of friends.