Post by Plum Pearl on Oct 17, 2016 23:27:30 GMT
The following is submitted as the second alt of Carbide Carbide Profile No further character submissions will be made unless the deletion of a character has been announced.
Name: Plum Pearl ~ Designation: DSSA HG-U #93877
Appeared Gender: Femme
Appeared Age: ~30
Gemstone: Plum/Mauve tinted Pearl
Gemstone Location: Upper chest, meeting point of Sternum and Collarbones
Corrupted: No
(If Corrupted)Monster Form: N/A
From here on out I would like to play with writing her profile as if it were an order summary for an order placed by a high class gem on home world when they first ordered the creation of Plum Pearl. Bear with me, it should be fun!

Appearance
: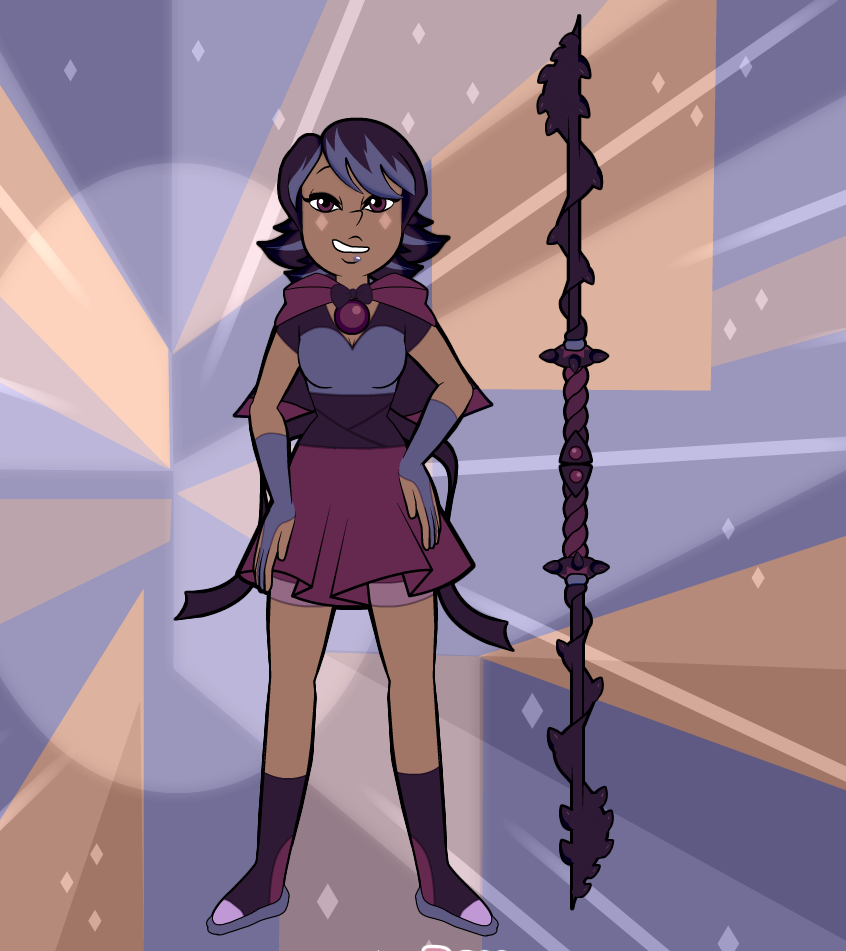 It is our mission and great pleasure here at
~PERFECT PEARLS UNLIMITED~
to supply Home World's best with OUR best quality and the height of function and style! We are a Diamond sanctioned Empire-Wide conglomerate, specializing in creation of sentient, multi function servant accessories!
All our wares are custom made to suit the needs of a broad variety of clientele, from Explorers, to Military officials, to Dignitaries and Artisans and even the Diamonds themselves! What an honour indeed! So you can rest easy knowing that your order is being handled personally, by me, your Order Coordinator, and will be carried out to your exact specification!
I see that you have ordered our High-Grade Utility Pearl model, an excellent choice! Our Ballerina class Pearls are well known, and are our pinnacle of beauty, grace and design, however, for a Gem in your line of work, you recognize the need for your servant to embrace a philosophy of a wider range of use and function, well done, well done.
Our High-Grade Utility Pearls feature a darker Pearl core colour palate compared to our Ballerina models, from which a stunning
PLUM/MAUVE
has been selected, and as I have had my careful hand guiding every aspect of your Servant's production, might I say that your Pearl's luster is beyond impeccable I assure you. You may be interested to know that all our Pearls use the same body projection creation matrix, woven into their Pearl Core lattice, this means, that all our Pearl models have the same overall body volume, however your model differs from our standard 6 ft tall Ballerina, in that she is only 5 ft 6inches tall, but you knew that already! By giving the High-Grade Utility model a slightly shorter overall stature, we can allow for a body dimension and volume that lends itself to increased strength, resilience and versatility compared to our utmost Luxury models, although we do sacrifice a slight measure of grace and range of motion. This results in a servant accessory that sports a high degree of usefulness and resilience that can arise to almost any situation in the field, from Exploring the fringe worlds, to rubbing elbows with the Diamond's Elite in the spires of Home World.
This Pearl features a bold medium skin tone, with hair and outfit colours that accent her Pearl Core most beautifully, contrasting our Ballerina models in an big way. Even while embracing function in this model, we have not dared sacrifice a single shred of fashion or elegance or visual appeal. You will find that the facial structure and appearance modifiers incorporate common Pearl stylistic themes, including rich colours, sashes, skirts, capes and tops that will not hinder her function and make it very apparent that she is the height of personal servant accessory manufacture from ~
PERFECT PEARLS UNLIMITED~
and not some knock off. You have chosen well! Your servant is custom tuned and ready to follow you into the field, filling your need for function and practicality, while sacrificing none of the functions, or enjoyment to be had in Courtesan or Concubine!
Personality
: As I stated previously, I have had the pleasure of overseeing every aspect of your order's customization and cultivation, and your Pearl has turned out to be a most endearing mix of tenacity, creativity and a warm core, kind to her Pearl peers, but demanding care and performance of herself in everything she sets her mind to. All our Pearls are mentally sharp, but this one's mind seems rather akin to the keen edge of fresh hewn obsidian. Expect a very rapid uptake of new skills and a keen attention to detail with this one.
While being well versed in conduct in social settings, in private you are likely to enjoy her skill at conversation, always eager to keep apprised of the goings on around here, and gifted in a rather unique literalist ...er.. deadpan style of humor that seems to land at just the right moment in conversation, this will be a valuable asset in the field in case of low morale. Keep an eye out though.... you DID request a rather specific weapon and skill load out, and I trust you have good reason for it, however this has included somewhat of a combative calculative streak when she gets going in the sparring arena.. Oh!... and don't sneak up and startle her, I think that poor technician is still having that scuff buffed off his gem..
Likes
:
- Bees, a job well done, overcoming challenges set before her, flavoured coffees, swimming
Dislikes
:
- Being interrupted while performing a task, excessive micromanagement, runny yogurt, industrial chemical odors (despite not harmful to her)
Fears
:
- rumors of a civil war among gem kind, a lack of recognition for her kind, being unable to recover all her memories (tied to a story arc), this results in some temperament issues
Weapon
: I must say, what an interesting and rather.. specific weapon you have ordered custom tuned and incorporated into her Pearl Core Lattice.. An alteration on the standard Pearl Spiral Halberd, adapted into a double ended variety! Its colour has been matched to her rather perfectly, I must say, and the addition of the protruding serrations will provide a considerable measure of damage potential over the standard model while doubling as surfaces that can bind and trap an attacker's weapon, leading to a speedy disarm. Those serrations are bound to come in handy as an insurance policy to keep her self in place, by digging them into any terrain if she is forced to use her second ability at close range, good thinking! But we will cover that more further in the order summary..
I must apologize though, as we WERE able to incorporate the additional feature you requested.. we were loathed to find it necessary to sacrifice something as well. As requested, her Pole Arm can split in half at the middle, and be wielded as a matched pair of sword breakers, dual wield style, and re joined into a pole arm at will. However we did have to sacrifice her ability to truly summon two pole arms at the same time. She can summon a replacement rather readily if they need be tossed as a javelin though, and the rapid fire plasma burst seen in the standard Halberd model was successfully modified as per your specs as well, replacing it with a wider energy arc attack that is achieved by focusing and swinging the weapon in either Double ended pole arm mode, or twin sword breaker configuration! Please do bear in mind she may need some additional practice with this function, as I must confess the energy crescents travel somewhat more slowly through the air, making hitting small or fast moving targets rather more difficult and have reduced range as well.
Generalized Pearl Abilities:
Your Pearl bears all of the standard abilities as to be found among naturally cultivated and incubated Gem citizens for your convenience, such as summoning defensive weapon(s), storing/summoning small items via gem magic pocket dimension (an ability considerably enhanced in Pearls, as is well known), altering appearance modifiers, full shape shifting, agelessness, regeneration following critical damage to body projection (colloquially known as a "Poof!"), fusion, bubbling of hazardous or small items, enhanced strength, stamina, durability, coordination compared to most Organic species, on par with Mid-Range gem citizenry.
Ability 1:
Hard light and Projection Manipulation


Standard Hologram and Hard Light manipulation capabilities may be common for many of our Pearls, however the usefulness of this ability is not to be underestimated! Your Pearl is ready and capable of projecting holographic images from her Pearl Core which are tremendously useful for Information, Education and Entertainment purposes. To further her usefulness in this regard, this ability is combined with a natural aptitude for interfacing directly with Home World technology at no extra cost! The second iteration of your Pearl's light and projection manipulation capabilities is known commonly as the Holo-Clone Technique. Utilizing this ability allows a single pearl can act as an entire servant crew if need be. Your model is capable of summoning a maximum of 4 Hard Light Holo-clones that are capable of physically interacting with the environment. Be mindful, the more that are summoned, the less combat worthy they are. A single Holo-Clone would be the equal of the original pearl in durability and skill, where as 4 clones would only be 1/4 as effective each. This wouldn't matter for mundane servant duties etc as they are seldom as strenuous as a combat scenario. The Holo-Clones come pre-installed with many of the most common behaviors and capabilities one would require day to day or in the field. Your Pearl may add extra precepts and directives into the baseline Holo-Clones at your behest. Remember, while they are semi autonomous, they do require instruction to perform tasks. Instruction which may be given by the Pearl's owner orally, or by the Pearl directly to the Holo-Clones, orally or mentally, which allows for your servant to flawlessly coordinate the multiple iterations of them self, seeing to the flawless operation of your project or special event, without filling the air and spoiling the mood for you and your guests/colleagues with bothersome logistical chatter!
Ability 2:
Vortex Grenade
In light of your selection of this special ability, we are pleased to include a few words from our Head Director at
~PERFECT PEARLS UNLIMITED~
"Pearls are well known for their usefulness and aesthetic appeal, however the magical properties and complexities of their extensive item storage abilities are often overlooked and underappreciated, as well as poorly understood by their owners and gem society at large. The energies required to maintain a pocket dimension are formidable but are quite stable when contained within the crystalline lattice of the Pearl's core, allowing items to be stored and drawn from the pocket dimension at will by the Pearl. However, should these energies be manifested separate from the Pearl Core and cast out into the environment, they begin to exhibit unforeseen capabilities and potent potential for utility and tactical situations."


Vortex Grenade
: Some varieties of custom made Pearls may be imbued with ability to utilize the common gem '
Bubble
' technique to siphon off some of their energy that goes into creating and maintaining a pocket dimension tied to their Pearl Core, like a portal. This takes the form of a small Magic Containment Bubble (about the size of an Earth/Human Softball) containing within it a small swirling cloud of pocket dimensional energy, matching the Pearl's colour. When cast/lobbed towards a target or location, the Magic Bubble will burst after 1 bounce or when contacting a hard surface, releasing the stored pocket dimension energy, which, separated from the containment properties of the Pearl core, and the mind/will of the Pearl itself, will manifest as an unstable Vortex, seeking to draw items or enemies towards it, attempting to 'store them away'.
Within a radius of approximately 20 feet, enemies will have to fight to keep their footing and claw at the terrain to keep from being drawn towards the vortex, while smaller objects and debris that is not nailed down will pulled right through the air. Enemies or objects that reach the vortex will be spun and tumbled, like clothes in a dryer for a few moments (Aka,the span of one turn/post in battle. The turn can be in effect immediately, or can be cast, and the intended targets can react to it in their next posting turn).
Due to not being contained in the Pearl Core and by extension lacking a connection to the Pocket Storage Dimension, the vortex soon destabilizes and collapses. Any enemies or objects drawn in, will be dumped on the ground in a pile, with enemies likely experiencing some extreme dizziness and disorientation, and perhaps some damage from colliding with other enemies or objects drawn into the vortex while active.
Disambiguation: Larger enemies either due to strength or sheer mass, will be better able to resist the pull of the Vortex, either by anchoring themselves/holding onto the terrain manually, or by simply being too heavy to draw in. For instance, a humanoid sized target could be pulled off their feet and drawn in, a target the size of a large brown bear for instance would be dragged in more slowly (perhaps two or three ft per second)so long as they resist, however something the size and weight of a full size Automobile or Pickup Truck may wobble and shift but would not be pulled in.
Bear in mind that full combat strength Vortexes take a bit out of her to summon, so she may need a moment or two before being asked to deploy another full strength grenade.
In non combat scenarios, the skill can be used by Pearls to clean up/gather up large amounts of debris or clutter into one easy pile. Raking the leaves or cleaning up after a concert/rally has never been so easy..
Low Power vortex grenades can be summoned and deployed more readily, but they will be limited to gathering small to medium clutter, rather than affecting humanoid sized targets.
Fusions
: Your Pearl is fully functional and able to Fuse with other pearls at the Owner's behest, or by their own initiative in order to coordinate efforts, increase productivity or achieve a heightened state of defensive capability. (No fusions as of yet.)
History
:Plum Pearl was cultivated on home world and was sent with her Owner as part of a small observation and exploration expedition to Earth several centuries ago. She would very much like to know exactly what happened and how she got separated from her owner, but in her core she fears the worst. You see, she would turn up later, attached to the cover of an alchemist's grimoire, that currently belongs to the ancestors of a human by the name of Thaddeus Brandt, who in the late 1700's and early 1800's fancied himself somewhat of an aficionado in Alchemy and the Occult, as humanity began to teeter back and forth between understanding the newly revealed world of science, and trying to reconcile it with the superstitions and magic of their old world. Due to a setting on the cover of the book that was actually a scavenged gem energy resonance insulator, the metallic ring that bound her large mauve Pearl core into the book's cover, also disrupted her magic energy enough as to prevent her from re forming, as well as leaving her mentally half asleep all those years, disrupting her access to some of her memories.. Her relic, now locked in a trunk, keys long gone, is on the auction block at an estate sale by the alchemist's descendants at a museum benefit in Empire City, and if some enterprising.. or just bored.. or lucky gem were to bid on that mystery chest, they just might be in for a surprise.
Character Arcs: Reawakening - A treasure inside!
from there on, Plum will be trying to rebuild her identity and life, and it will likely be somewhat tied with whoever 'buys' her, since as a pearl her servant's instincts/conditioning are strong. So she will have to learn to balance being herself while still relating to gem culture and the role her kind fills within it.