Post by Chrysolite on Aug 1, 2017 12:47:34 GMT
Training thread:
Not yet completed (This might not be done for a while, I just want to put this up now as it will have narrative significance later on. More to have it here for when that's all ready, I don't intend for this to be accepted yet, but I would like to work out this character first)
Fusion of:
Iolite
and
Chrysolite
(my alts)
Control:
Just me
Name/Gemstone:
Apatite
Gender:
Female
Gemstone locations:
Left cheek and tongue
Appearance:
(will draw a picture soon)
Apatite stands at around 25 feet tall, the height of the average telegraph pole. She has a dark shade of cyan for her skin.
///////
And her hair is a light cream color.
/////////
It is bunched up into a ponytail at the back. She has a visor similar to Sugilite's except it is transparent like a peridot visor.
Apatite has 6 arms of similar shape to sugilite's but not curled around each other. Her eyes are sharp looking with two irises in each eye ball. Her teeth are somewhat sharp, adding quite an edge to her grin. Her tongue is small enough in relation to her mouth to allow her to speak with her tongue in her mouth, but her speech isn't very clear.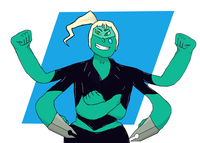 Click to see image at full size
Personality:


Apatite is very volatile, deciding who she likes and who she wants dead can fluctuate very quickly. This gem relishes in destruction, Chrysolite loves to have the power, and Iolite likes breaking things regardless. However, where the line is drawn is harming others. Chrysolite hates harming other gems, even if necessary, while Iolite does so on a regular basis. When It comes to it, Iolite's will can overpower Chrysolite, so by the time she has unfused the damage has already been done.
What Apatite hates the most is being misunderstood. Chrysolite has long been a small gem who's opinion is often ignored, while Iolite is quite insecure about her defects, making this fusion quick to anger if not understood clearly.
Fusion weapon:
Apatite's weapon is 6 katars, however, each one is shaped with a similar design symbol to Chrysolite's screwdrivers. Very effective at cutting through things quickly.
Unique ability:
Apatite, while brandishing her weapons, can cause the weapons to relocate to her forearm as a gauntlet. If held up, they can provide a protective barrier against attacks, they can stay like this for 3 posts with a 2 post cooldown. While in this mode, this shield can be used offensively, for example, if she held them all up, Apatite could quite literally walk through a building, pushing any and everything out of her way.
She can also use them to become a wrecking ball of sorts, by rolling across the ground with them to crush everything in her path. This is not like a spin dash, as this does not rely on her velocity, but rather that she will crush anything foolish enough to be in her way.