Post by Melody on Jun 10, 2018 13:27:48 GMT
Name(/s):
Pearl Facet-3AG Cabochon 4, Cream, Melody

Appeared Gender:
Female
Appeared Age:
20
Gemstone:
Pearl (cream variant)
Gemstone Location:
right ear
Faction:
Homeworld
Corrupted:
N

Appearance:
Pearl is slim and has got a pointy nose. Her skin tone is pale cream while her eyes are bright orange . She also has got short curly hair. She keeps her bangs away from her face by wearing a white hairband that is connected to her gem. Her attire isn't too fancy, some would even say that it is not elegant enough for a Pearl. It is simple, appropriate and practical. She is wearing a yellow-cream sleeveless shawl with beige sweater underneath. The shawl has a pink diamond insignia in the center that works like a button. She also has a pair of dark-cream pants, orange flat boots and yellow-cream socks.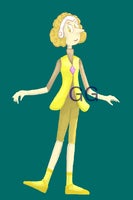 She also has a dress she only wears during special events. It is an upgraded version of her original form, with one side of the shawl being longer and becoming bright orange. In addition, the dress has got white frame and the pink diamond insignia is in white circle to represent the Moon Base. She also has got a bit of loose white material around neck and loses her sweater that was underneath before.
Personality:
Melody just like any other Pearl knows her place in the society. She usually acts just like any regular, dull Pearl. The truth is, she has been living for many years, but just now she starts to become her own person. After losing her original master she is forced to adapt to living on the moon and rethink her life.
There is something inside her, an artistic soul full of life and passion. All of this is closed inside the empty shell that is supposed to be her body. But all of this starts to change, she starts to become her own person.
Melody has always been calm and friendly. After all those years not much has changed in this regard. Cream always tries to avoid speaking up without reason and avoids fights. After everything that happened to her she holds some sort of grudge inside her and she may sometimes act unpredictable. She is not willing to talk about her own problems. She puts others first instead of her feelings and thoughts. But she is still your sweet, likeable Pearl, just don't scratch her old wounds.
She doesn't like when someone accuses her of being wrong, but she will probably let it slip to avoid possible conflicts. However, she will admit her fault and apologize if she is wrong. Physical conflicts are out of question, she prefers to resolve conflicts by talking. The problem with rebels on Earth worries her because she is afraid talking won't do much.
Cream has a tendency to avoid other gems. She likes quiet, lonely places where nobody will disturb her. She will then play music for herself or just take a moment to think about something. She cares about her job and her superiors, but sometimes she might even take a rest during her work time. She will of course do it only when nobody is watching her. This behaviour might make her look indifferent to everything, but this couldn't be further from the truth. She is a very caring person, but all of this stress makes her feel tired.
Pearl enjoys getting to know other gems. She likes to know why they act a certain way and what is their history. She is a curious gem that likes to listen and doesn't talk much. She will only speak out when someone needs her or it is really necessary. She might occasionally try to comfort someone because she enjoys helping out those in need, that is pretty much the only aspect where she would take initiative. She always believed that to be a Pearl is not to just serve a single gem, but to make world better for every gem. Even if she works for one gem, by making this one gem's life better, she helps the whole system.
Likes/Dislikes:
+
Dancing (she only knows ballet, but she is curious if a Pearl like her could possibly learn more dance moves), singing, playing music, listening, learning more about a psychology of other gems, silence and calm atmosphere
-
The way some gems disrespect her kind, loud music and noises with no tact, letting emotions control her actions, the moment when someone interrupts her calm atmosphere, being seen defective or wrong, talking about herself
Fears
: Being replaced, losing her purpose, losing the ones close to her, sudden changes, ending up in a war, corruption.
Weapon:
Her weapon is actually her hairband. She can summon it at any time, but she is not aware that she can use it in combat. It can generate a sonicwave that could confuse her opponent and distract them for some time, giving her enough time to escape. The attack can hit max two gems and the confusion effect lasts for one post. After using it once the weapon will have to recharge for 2 posts. She could also technically use it to "see" the room she is in without looking, just like bats use their echolocation.
Ability 1:
Recorder- Pearl can record anything she can hear. She can also play something she recorded in the past at any time. While recording or playing an audio file her eyes look like she was connected to gem technology. Since gems don't forget (Pearl in the show is able to make a holographic image with details of something that happened long time ago) she can store an unlimited number of sound files in her gem. Files she recorded can't be edited or deleted from her gem.

Ability 2:
Sound Sculpting- Pearl can sculpt and shape sounds and other ambient noises, changing them in any way imaginable, such as changing the sound of rainfall to sound like a lions roar. She can also use it tochange her own voice to sound like someone else.

Fusions: None

History:The life of a Gem is a simple one. You are made to serve just like any other gem. However, if you are a Pearl, you aren't even seen as an actual person in the eyes or Homeworld. You are more like a property and property can be easily replaced.

Pearl was created in a reef many years ago. Her gem was pretty much perfect in most regards. She wasn't anything special, but her gem was decent with no visible flaws. She was given to a certain Zircon from Pink Diamond's court. One day Pearl just woke up and this Zircon was the first person she had ever seen. She was made for her.

Zircon wasn't looking for a decoration, but a tool that would help her in her job. That is why Pearl was ordered to form with a rather simple form with not many decorations. Cream was supposed to record the trials for Zircon. That way Zircon could listen to them later during the breaks to help her with her spreech. Not to mention Zircons's work was stressful, she often used Pearl to play some calm music for her.

That is how Pearl's life looked like for many years. During this time she recorded many different songs and moments from trials. And she didn't expect it to change any time soon.

There were rumors about Pink Diamond getting her own colony. Many gems from across the galaxy were send to Earth in order to help the young leader create her first colony till she would have more of her own gems. Pearls weren't really exactly needed there. But Pearl heard about the Sea Spire, the place where high classed gems could come and relax or simply talk with each other. Apparently they needed some dancers and Pearl commented on how great it must be to work there. Zircon after all those years got used to her Pearl, but she decided to lend her to her friend that worked in a sea spire on Earth. And Pearl was soon sent to this distant planet.

Pearl of course missed her dear owner, but she was also excited to see the earth. However, she soon found out that instead of dancing she was brought to use her powers to play music. If that wasn't bad enough a rebellion was formed. At first there were just gossip, nobody wanted to take those "Crystal Gems" seriously. However, a lot has changed when the first attacks started. Soon most non-combat gems were ordered to evacuate. Pearl was ready to go, but she got a message form her owner. Apparently her Zircon found a new Pearl while she was gone and she didn't want her anymore. She felt devastated and had no idea what to do, but not matter what she thought about all of this, she couldn't argue. The gem that got her from Zircon couldn't keep her naturally. She wasn't suppose to be with her in the first place. That is why she was send her to her Diamond, Pink Diamond, to decide what to do with her. And that is how she ended up on the moon since that is where she was at the moment.

Pink Diamond decided to keep Melody close to her so the sensitive data on her gem wouldn't end up in the wrong hands. Pearl was given a new purpose- she was asked to work not for a single gem, but the Moon Base itself. To make things formal she was given under Euclase's care. She is currently working in the medical station as a secretary. It is important to contact her if you want an appointment. She can also often be found roaming around, playing music or admiring her Diamond's mural.

Character Arcs:
-She will join Pink Diamond's court (Done)
-She will get a new job (Done, she is working in the medical station for Euclase)
-She will get poofed and will change her form to look the way she wants to look, she will also learn to love her own image.
-She will interact with Homeworld gems and possibly some Crystal Gems too. (In progress)
-She will become suspicious of the reason she was abandoned, she will try to learn more about her Zircon's motives.
-She will open up.
-She will get over her previous owner.
-She will discover her headband's power.
-She will fuse.
-She will start to see a big potential in Pink Diamond and will observe her actions carefully (Done)