Post by Larimar on Jul 22, 2018 17:38:18 GMT
Name: Larimar
Appeared Gender: Female
Appeared Age: Early 20s
Height: 6' 3"
Gemstone: Larimar
Gemstone Location: Back of left arm, near wrist
Faction: Undecided, leaning towards separatist more than Crystal Gem
Corrupted: Negatory!
Appearance: Credit to uzuluna on DeviantArt for the lovely photo!
Personality: Larimar, at a surface glance, can be easily seen as simply another 'clueless' aristocrat, and indeed she often acts like one. Preferring to make peace and always smile, Larimar will rarely be the one to spit out an insult or be one to invite someone else into a serious debate. She believes that Gems should be given placement on the caste based on merit - not simply station of birth, but keeps this opinion hidden well away. She is amicable, but not trusting, of new Gems she meets - and this especially extends to rebels, as they are rather hard to predict.This attitude can often work the opposite way of its' intention, as some Gems read her as aloof and uncaring due to her status. Perhaps, truly, she is - as her attempts at treating her companions as friends often fall flat, not that the still subservient Gems care.

:
- Relaxing
- Having a pleasant conversation
- Most food items
- Joking with friends
- Her companions
:
- Fighting
- Working alot
- Crystal Gems (Ideology disagreement)
- Homeworld (Ideology disagreement)
- Ignorant / Stupid - Gems or Humans

:
- Quartz Soldiers
- Having to fight without her companions
- Fusion (Her performing the action)
- Corruption
Weapon: Dagger | Larimar can manipulate its size in-hand, the extension taking on a cyan glow. The blade can grow up to four feet long.
(Image credit to FromSoftware)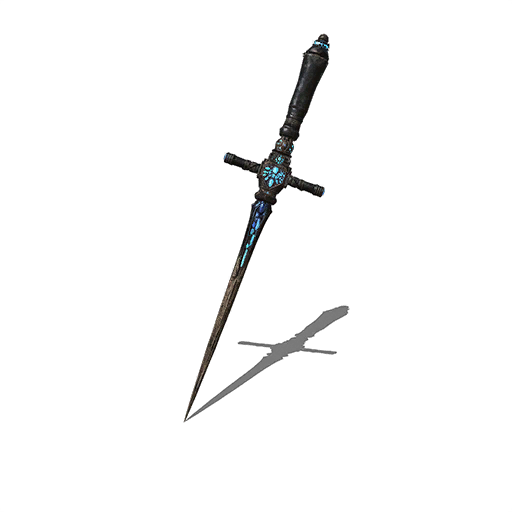 Ability 1: Limited hard light energy manipulation | With this ability, Larimar is able to create constructs up to a dimension of 6' x 6' x 7' that can weigh up to 250 (two-hundred and fifty) pounds. This includes things like barriers - which are prone to shatter after one attack with any effort thrown at it - or more docile things such as chairs. She can have three constructs created at a time, and they automatically disappear after five posts unless she maintains it. If a construct is destroyed, she has a two post cooldown before she can make another.
Ability 2:
Blink | Larimar can shift herself backwards instantly to where she was up to 30 seconds ago. Two (2) Post cooldown.
History: Larimar, as most upper crusts, was formed and immediately jettisoned into an existence of responsibility and aloofness - expectations for an aristocrat were as high as ever. Larimars were a rarely made Gem type - akin to certain types of Padparadschas - the purpose of them being a simple designer for Gem structures. Furniture, art, and the general flow of a building is combined with an architect's knowledge to make 'pretty' and functional structures for use. And indeed, Larimar worked her hardest to this end for the many decades she was with Homeworld, dutifully serving the Diamonds as any other Gem. She could never shake the strange feeling she had sometimes - how some Gems, despite being the same model and purpose, were able to perform a task better than a counterpart. Even other Larimars, which she seldom met, were either noticeably 'better' or 'worse' at designing than her.
She drifted slowly away from the loyal lapdog she once was, privately harboring the idea that perhaps some Gems deserved to be held in higher regard not based on caste - but on merit. Along with her two Pearl assistants and a recently assigned Titanite bodyguard, she had gone to Earth to assist with some decorating of Blue Diamond's requested structures on the planet. When the transmission of rebellion was sent and warp pads cut off, Larimar simply disappeared with her entourage from the main Homeworld escort she was apart of.
Companions: Larimar is often seen with two to three others - a pair of Blue Pearls which are often fused, and a Titanite bodyguard.
Character Arcs:
Learns to treat and interact with her guard and pearls more like friends than a master/servant relationship.
Having rebelled, Larimar realizes that her views don't exactly line up with that of the Crystal Gems.
Fuse for the first time.

Additional Notes:

This is an alternate of Imperial Topaz, replacing Danburite. Danburite has been deleted to make space for her.