Post by ~Panzerschurke~ on Dec 2, 2015 22:00:09 GMT
Carbide character sheet:
Name: Carbide
Appeared Gender: Female
Appeared Age: 27-31
Gemstone: Carbide (Silicon Carbide)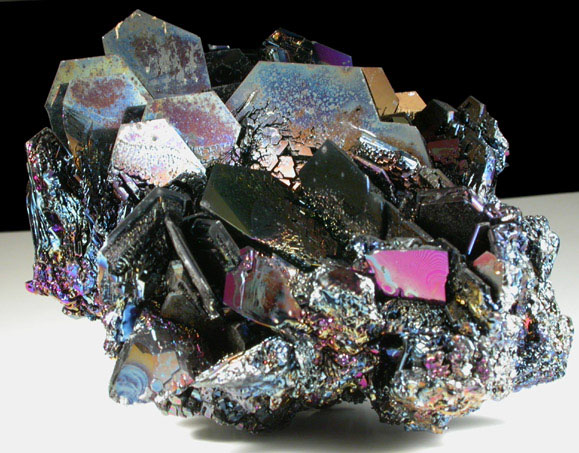 Gemstone Location: Positioned high between the Shoulder Blades.
Corrupted: Non Corrupted
Alignment: solo/gradual crystal gem
Carbide is my own character, the art below is a commission drawn for me by this forum's very own Disthene! The gem creator belongs to its author/creator.
Appearance:
Carbide is a femme gem standing roughly 6 ft tall (with bare feet) and 6'2 (Boots manifested). Her physique is borderline rough and tough, being not quite so bulky and tall as a Quartz class like Rose or Jasper, perhaps more in keeping with what may pop into mind if one imagined the build of a female fire fighter or soldier; aka a bit more scrappy than graceful, but a bit more strategic than wrecking-ball and a modest B cup in the bust contour.
Her skin tone is a powdery greyish with a bit of a blackish plum undertone that shows up more prominently on her cheeks or face if she blushes or gets otherwise emotionally charged, aka excited or angry. She wears her hair in a bit of a wild medium-long length choppy mop top, colored similar to her crystalline carbide gem core, giving it a darkish tone with an iridescent (dark blue/purple/green) streak that travels depending on the angle of light.
Her gem is somewhat artichoke shaped, bearing an appearance that is more akin to having been grown to shape, rather than cut. This leaves it with staggered and somewhat rough looking but containing individual very smooth hard facets that bear a purplish blue almost oil slick color sheen depending on lighting conditions.
Her gem is commonly visible due to a low cut back on her dusty plum coloured textured tank top. On her bottom half she wears a darker grey pair of what almost appear as khaki Capri's with integrated soft knee pads. An inch or so gap exists between the open leg cuffs of the pants and a pair of trim fitting rugged boots with a criss-cross pattern imitating laces.
Over this outfit is worn a self projected set of semi transparent ceramic like plates, a half face visor, a contoured bust plate, as well as forming some hand and knuckle protection on her mid forearm length gloves (The full face cover, bust plate, and hand guards are only called upon in fights or dangerous scenarios. at all other times, she wears simply a half face visor). These mainly protect her more vulnerable parts (face, fingers, upper torso) from close range splash damage from her weapon.These plates are gem summoned in a manner similar to visors or glasses, can be discarded or broken, and are not considered gem weapons like Garnet's gauntlets, due to them possessing no offensive functions or powers (aka turning into rocket fists, or combining with another gems weapons during a fusion). Finally a small tapered poncho is worn over her shoulders and top, this garment is a dusty pink and bears a repeating triangle pattern in midnight blue along the edge. And yes.... for those of you old enough to remember it, the armored plate hidden under a poncho, as used in A Fist Full of Dollars, IS being referenced here.. X3
Her poncho is a human made garment, as is the beat up denim backpack she sometimes wears, which has a hole cut in the back to allow her gem to protrude in, basically allowing her to summon small items from her magic pocket dimension, while making it look like shes just reaching back into her pack. This makes for a comedic effect if she retrieves an item that is longer than the pack is deep although the pack has a couple regular secondary pockets too.
Her expression is usually cool and collected but also carries a soft slanted smile and a pair of horizontal scar like marks on her left cheek, corresponding to a pair of small scratches on her gem. Her eyes are unusual in that her sclera are mostly a misty black, with icy blue irises and ocular secretions (aka tears) that are dark like watery black ink. This is one aspect of her appearance she cannot seem to alter, as it was 'hardwired' in when she was developed by the Blue Diamond sector, to make her less visible when scouting in low light conditions. She is self conscious of this feature and addresses it by habitually wearing her manifested light mauve-transparent partial face visor that she enchants to make her eyes and tears appear normal, even if they drip past its edge. If she dismisses the visor or it is broken, the camouflaging effect is lost until she summons a new one.
Personality:
Carbide can be a bit of a contradictory person. On the one hand she is a great team player, but seems to fall into lone wolf patterns since she doesn't want others to go out of their way for her. This means a hard time asking for help and trying to take on too much by herself. That being said, she is very glad to be included and offer advice, and given her exceptionally resilient body projection, she's willing to step in and tank a few hits too. At the end of the day she's prone to needing a bit of personal decompression time.
Despite her collected demeanor and resilient physical form, she is somewhat of a softie at heart, giving others the benefit of the doubt, and in battle she sometimes hesitates or pulls her punches and has a major soft spot for emotions and will turn on the quiet dignified water-works.. but water works none the less in the event of a very happy moment or if someone else is sad or hurt due to some empath sensitivity. If you see her suddenly summon a face visor or a set of shades, there might just be an emotional response she's trying to down play. Her sense of humor is a mix of sarcasm, straight faced humor and egregious puns... beware.
Ultimately, she can be rather affectionate in her own way, day to day she may prefer to express her affection through a shot to the arm or a bit of a hip-chek, or even a soft fist pound, but once the emotions catch up on a deeper level, watch out... she hugs.. hard. Don't worry; she can be perfectly gentle if she checks her actions first. She's got the scrap of a brawler which can be devil may care, and the focus of a gunner, which can be single minded and overly focused, to the point of zoning out during fights or conversations, because she's actually focusing "In" too much.
"I may not be able to ever be the smartest, or quickest, or strongest, but I promise, I can be the toughest gravel in your gears that you'll ever meet" - Carbide.
Likes:
Patience, uncomfortably strong hugs, loud music, stout / bitter ales, strong coffees and teas, sleep (even though gems don't NEED it), "rattling the cage", loyalty, bar fights (guilty pleasure), being outside at night, occasional vanilla cigarillos, small kind gestures, puns / dad-jokes, what she terms as "gentle anarchy", un-summoning her boots and wearing human-made fluffy slippers
Dislikes:
Being micro-managed, pointless conversation, leaving anyone behind, oppressive attitudes, guilt-tripping, excessive force, pomegranates .
"they don't taste bad, but seriously... #@%& all those lil seeds ya know?.." – Carbide.
Fears:
Not living up to her own expectations, failing others when it counts, losing herself in a fusion, extreme heights/free-falls (more so the sudden-stop)
"No gem has ever been cracked or shattered from a fall. Now, the sudden stops, those can be fatal!" - Carbide
Weapon:
Some might consider her summoned hard light plates to be weapons, and admittedly, the ones on her gloves DO make for a set of very handy knuckle dusters. However, Carbide's weapon is a rather unorthodox mix of ranged power and precision and close-up slug-fest.
In combat Carbide summons what she refers to as a "Ballistic Cudge"
The Ballistic cudgel takes the rough appearance of an Earth based 17th century cannon without a mounting frame, instead this weapon is 55 inch long, 7 inches wide at butt, which bears a Star shape and raised stylistic gem script around the edge that reads..
~ CAST IN THE NAME OF THE DIAMONDS ~
An inset square toothed ring that rotates and makes a heavy ratcheting sound as the weapon finishes reloading or when it changes the nature of its shell. It is located just ahead of the weapon's butt, The cannon bears a curvaceous main body that tapers to about 4 inches and ending with with a ringed muzzle brake, with a bore about the size of an orange.The cannon is fitted with a protruding handle about 11 inches long 1/3rd of the way from the butt and another smaller one the opposite side at the half way point along its length.
(Weapon Melee style)
The cannon requires nearly half a minute to regenerate a shot via Carbide's own gem power, longer still if she is battle fatigued or has made repeated shots. So in the down time, or in the interests of not wasting such a powerful shot or risk collateral damage, she hefts the cannon and wields it like an over-sized Night Stick with impressive speed although not always graceful results.
When wielded this way the weapon is gripped primarily by the larger rear grip, allowing carbide to make use of the thick weapon as a sturdy blocking and parrying tool, which allows for follow up kicks, shoulder barges or sweeping strikes with the weapon body. The cannon can, recharge a concussive charge more quickly than a true shot, essentially a blank shot with nothing leaving the muzzle, but plenty of kick. This can turn the cannon into one heck of a pile driver punch, if it is inverted and strikes with the weapon's base. Carbide's melee combat is centered around strong footing, which is necessary for her to generate torsion and traction, to wield the weapon in a conventional melee sense... usually.
Recoil Piledriver Overall Effect
(Weapon Ranged style)
Using the offset grips
allows the weapon to be snugged tightly to either hip (she prefers the left), with the inside hand on the midpoint grip, and the outside hand on the rear-most grip allowing for a stable balanced firing stance and an easy balance/handling transition to melee if need be. The cannon is summoned loaded with a hard light projectile of either explosive-piercing properties or scatter-shot shell of hard light grapeshot. Hard light shells do not travel in a straight line like an energy beam, and thus, follow the laws of physics and gravity, resulting in shell drop at long range, and the need to lead the target depending on their speed/distance. Carbide can summon two of these weapons, however, given their encumbrance, she prefers carry them tucked up under each arm, with the grips pointing down, in a gunslinger pose, gripping them via the midpoint grips in order to keep balance.
In dual wield mode, her melee abilities are considerably hampered, but beware the effect of a double blast of either ammunition..
OOC - Her melee combat style is inspired by Nightmare/Siegfried from the Soul Calibur games.
Generic gem abilities:Carbide bears all of the standard gem abilities, such as summoning weapons, storing/summoning small items via gem magic pocket dimension, modifying appearance, full shape shifting, agelessness, regeneration after a poof, fusion, bubbling, enhanced durability (stoutly enhanced in her case) and strength.
Ability 1:
Tectonic Grade Heat Shielding: True to the nature of her gem, Carbide has an extreme tolerance for heat and pressure changes that could prove dangerous or harmful to other gems. Her own body naturally has this effect,allowing her to accumulate, or dissipate heat more effectively as well as conduct (not generate) moderate electricity with no ill effects to herself.
Ability 2:
Till the Bitter End: Carbide can be somewhat self sacrificing in nature, but it doesn't mean she's willing to go down without a fight, especially if someone she cares for is involved. This ability is based on latent empath abilities (part of why she cries easily) coupled with her own will power. Essentially, should a dire enough situation demand it, Carbide can endure damage that would "poof" a normal gem and cause them to retreat into their gem to recover. This ability does not truly enable her to 'survive' these injuries, however, it does let her hold her projected body together for a few seconds or moments longer to ensure that someone is safe, or a threat is eliminated, upon which focus and stamina will break, and Carbide will "poof". The drawback of the ability, aside from the likely unpleasant sensations, is that in resisting the urge to let go of her badly damaged physical self for a period of time, it makes regeneration a bit longer and trickier depending on how long she wills herself to hold out/hold on. In an extreme case, it could damage her gem core as well. Visually, her gem glows and fractal cracks emitting light appear on her body the longer she pushes it past its limits, or the more severe the hit.
Fusions: No known fusions so far.
History: Carbide is a Homeworld Gem, who initially served as a long range recon scout for worlds being considered for Kindergarten projects. She was "made" with a high degree of durability and independence and keen senses geared towards observation and over all resourcefulness. These attributes bred an independent minded streak which developed into a bit of a ranger/cowboy mentality towards her work that eventually lead to a difference of opinion with her superiors among the Diamonds. Her career with them lasted approximately 2600 years, however once things were no longer amiable, she parted company with the Diamonds with a couple permanent scuffs on her gem, and a bruised ego. On her own she found work under the table within the gem empire as somewhat of a local peace keeper and protection for more.. academically inclined gems as an escort on dangerous colony worlds. 900 years into her solo career, she found her way to one of the latest Kindergarten planets.. some mud-ball called...." EEEEearrr-th"... yeah that's it. Little did she know that on this tiny planet were the budding seeds of a rebellion that would pull her in, entirely.
Character Arcs:
Would hope to find her way into a group of comrades who would give her something to look out for aside from just herself, whether she would admit it or not at first.
Conflicts with home world gems from her past.
Building of friendships.